*This shop has been compensated by Collective Bias, Inc. and its advertiser. All opinions are mine alone. #SKSHarvest #SeasonalSolutions #CollectiveBias
Fall is in the air. Therefore, it is that time of the year where pumpkin spice dominates. Warm beverages, like hot chocolate or lattes also make a fan favorite return. So what better way to enjoy the pumpkin spice flavor than to make your own homemade pumpkin spice hot chocolate mix.
You read that right…Pumpkin Spice Hot Chocolate!
OK so you will have your ingredients together to make this yummy and fun hot chocolate mix.
But how can you store it for future use?
This is where SKS Bottle and Packaging comes in handy.
But what is SKS Bottling and Packaging?
SKS Bottle and Packaging is a leader in the bottling industry. They were founded in 1986. They also sell a wide variety of glass, plastic and metal containers, as well as caps and closures for all sorts of storage uses.
They even offer over 6,000 containers and closures online. Plus, they don't only carry clear colored bottles and jars. Therefore, they also sell blue, amber, and green colored bottles and jars. An added bonus is each has an assortment of closure styles, too. Most of their products are made in the USA, as well as are 100% recyclable.
Use #SKSHarvest for #SeasonalSolutions + make #PumpkinSpice Hot Chocolate Mix #freeprintable #ad
Click To Tweet
Still what does this have to do with Hot Chocolate?
See for my world's famous Pumpkin Spice Hot Chocolate Mix, I happen to use SKS Clear Glass Mason Jars. Many who follow my blog also know that I love Mason Jars for all sorts of projects. These would include for gifting Valentine Treats, as well as Holiday Gifting, too.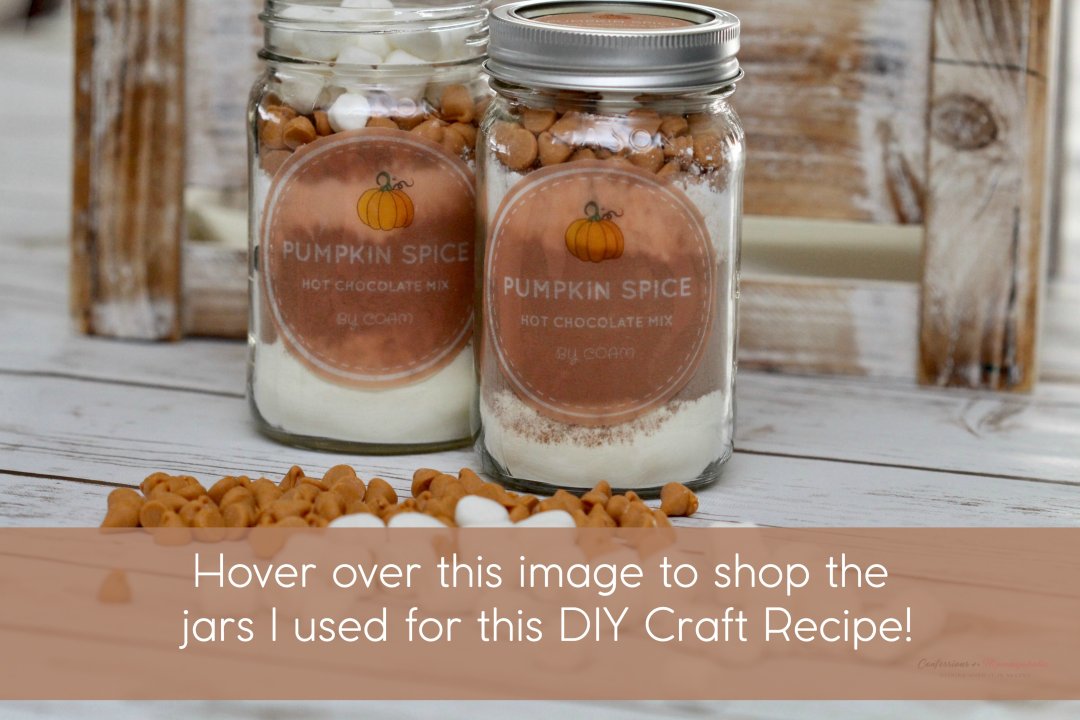 For all these types of Mason Jar ideas, I use SKS Clear Glass Mason Jars. Why? Because they are available in two sizes with a 2 piece silver plastisol lined canning lid. Still why do I love the plastisol lined canning lid? Because the plastisol lined lid creates a tamper evident hermetic seal with the mason jars. How? It does this when it is activated by heat.
Now that we have storage for our Pumpkin Hot Chocolate Mix, what about that recipe?
Yield: 2 Mason Jars
Pumpkin Spice Hot Chocolate Mix in A Jar
A fall favorite treat stored to perfection to be made soon.
Ingredients
2 cups dry milk powder
3/4 cup unsweetened cocoa powder
3/4 cup powdered sugar
1.5 cup pumpkin spice chocolate chips
1 cup mini marshmallows
Instructions
Layer all ingredients in 16 oz SKS Clear Glass Mason Jar.
First, the bottom layer is the dry milk powder.
Next, layer unsweetened cocoa powder.
Then, add powdered sugar layer.
Next, pumpkin Spice chips layered.
Last, add a mini marshmallow layer.
Finally close your SKS Clear Glass Mason Jar lid to seal in freshness. Adhere FREE Pumpkin Spice Label to front of jar. 
Now, either store to use yourself or gift to a special someone.
Nutrition Information:
Amount Per Serving:
Calories:

300
Want to use my FREE Pumpkin Spice Label Printable you see in the image above?
Then download it HERE now.
Here is a tip, print them exactly as you see them to get a Mason Jar Lid Label.
And then print again to fit the whole page to make them larger for the actual Mason Jar Label. So you get two labels in one here!
Now that you have the above Pumpkin Spice Hot Chocolate Recipe, don't forget to check out SKS Clear Glass Mason Jars to store or gift this fall happy treat to your favorite friend and/or family member.