This post has been compensated by Collective Bias, Inc. and its advertiser. All opinions are mine alone. #NixUltra #CollectiveBias
Here is the thing, I am the mom to two elementary school aged kids. I mean if you follow my blog you know this much.
My older daughter was actually bald until almost 2 years old.
Conversely, my younger girl had a pretty full head of hair by the time she was a year old.
I still recall being so excited the first time I could put each of my girls hair in a pony tail.
As a kid, I was more like my older daughter having been a bald baby. Then, when my hair first came in it was on the thinner side as a toddler.
But by the time I was in elementary school I had pretty thick and long hair.
My mom usually put my hair up in ponytails and braids. I mean little girls and hair usually mean all sorts of fun hairstyles.
But see back then, we didn't know too much about the four letter word that could stop any school aged mom in their tracks.
If you are a mom to school aged kids, then you probably know where I am going with this.
That's right – LICE!
I admit as a kid, I had lice once. I still recall my mom having to treat my hair. The smell of the lice killing product she used. I also recall all the measures she had to take even afterwards with me and our home. Because once you get lice you in your home, you never want to have it again.
So to say I am vigilant all school year with both my girls with lice is an understatement.
See I never want my girls to have to go through what I did that one time once upon a time ago. Nor do I want to have to deal with the repercussions of lice as a mom like my own mom did.
So, I take certain preventative measures to help keep lice away in our home during the school year. And with back to school on tap here, I thought what better time than now to discuss this.
What are the ways I have prevented lice in our own home?
Read on to now to find out…
7 Ways to Prevent Lice During the School Year
1. Know what lice look like.
Here is the thing when in doubt at the very least know what lice look like. If you are unsure, check out this awesome Lice Id Tool to find out now. Because once you know what they look like you can make sure to deal with lice infestation if it occurs immediately.
2. Be aware if lice are in your area.
Our school will usually alert once lice have been detected. But it truly helps to know ahead of time if possible. Therefore, this Lice Tracker is the perfect tool to help keep up to date with lice in your own neighborhood.
Perform regular head checks and 6 other tips to prevent lice + print out this FREE printable to help, too! #NixUltra #ad
3. Do regular head checks.
Once you know what lice look like, I suggest checking your kid(s) for lice regularly. I usually check at the very least weekly with my own kids. Mostly at the end of each school week if possible.
4. But Don't Wash Hair Daily.
This may sound gross to some. But lice seem to like clean hair and even breed in clean hair. So with my own girls, I usually try not to wash every day. In the winter months, I can go at least 2-3 days. In the warmer months, every other day usually works.
5. Never share hair accessories.
Whether it is brushes, combs, hats, hair bows and/or accessories, I have stressed to may girls not to share with anyone. Because you honestly don't know who may be carrying or be infested with lice.
6. Do Laundry every day.
Once my girls come home from school and/or after school activities, I usually try to launder the clothes they were wearing that day. This helps to kill any germs and more. This way lice don't have a chance of living on their current clothes or getting mixed into other stuff in our home god forbid.
7. Keep hair back.
Both my own girls have long hair. I rarely let them wear it down to school. Instead, they wear it up in a ponytail, braid or other hair style off their necks. This helps lice from getting mixed into their long hair while being down.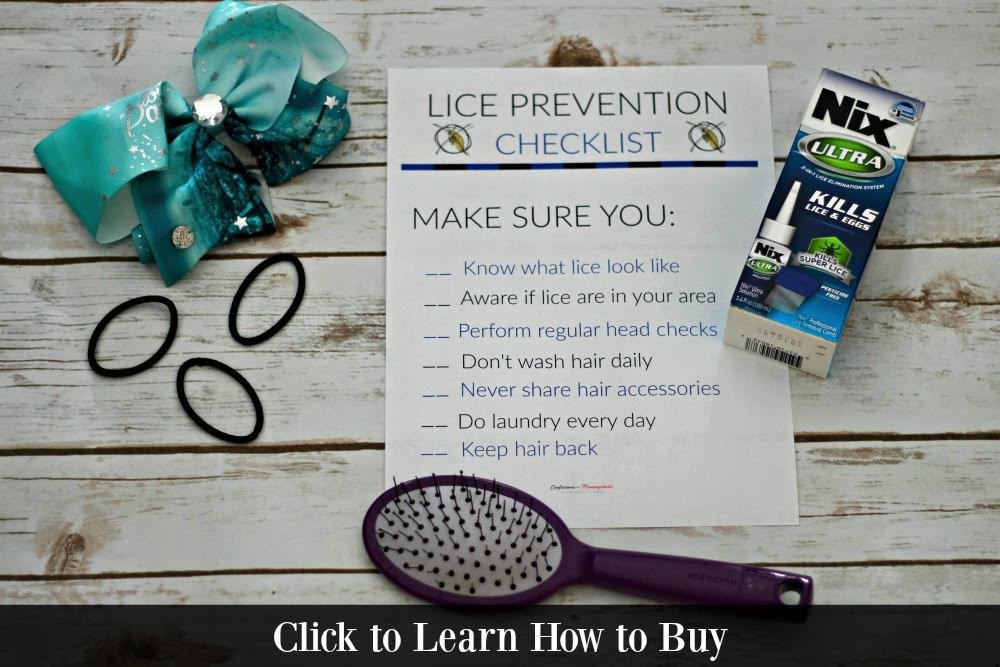 But what if?
Still if god forbid, lice do find us, we would use Nix®. I literally stock up on this at the beginning of the school year. Why? Because Nix Ultra® kills lice and eggs – even resistant "super" lice. I mean it Nix® is not only fast, but it is effective, too. Yet, it is super gentle on skin. Plus, it is Pesticide Free and also non-toxic. And I know it is a trusted brand that is also very convenient with easy application.
Right now, with this coupon, you get $3.00 OFF any ONE (1) Nix Ultra® product. Simply print this coupon, valid through 3/31/19, to save on Nix Ultra®. Once the coupon is printed an expiration date will be generated, so be sure to pick up your Nix Ultra® product within 2 weeks!
Download our FREE Lice Prevention Checklist now, too!
So, there you have the perfect way to prevent and deal with lice if they do strike this school year.
Have you ever dealt with lice in your home?
Share with me in the comments…