"I met the new girl today at work," Kevin stated very calmly and like it was no big deal.
"What was she like?", I answered pretty innocently.
"Well, she is pretty, young and we were just talking for a bit getting to know one another better," he answered without even blinking.
Such an innocent conversation and comment from Kevin who truly was oblivious to what he just threw out there, but of course my 35 year old PMSing self started to picture this girl and couldn't help, but feel like what does she have that I don't.
Don't get me wrong, I know Kevin loves me and would never cheat on me, but of course for about 30 seconds I had a case of "The Silly Gilly Gumbo (I watch way too much Mickey Mouse Clubhouse!) Jealousy."
Then, of course, came the rest of Kevin's dinner where we sat chatting and every once in awhile he would say something like, "Oh that outfit you are wearing (yes my yoga pants and sweatshirt with sports bra underneath) is truly one to make me want to just have a go with you right now," which is his usual teasing sarcastic self, but of course I was already feeling a bit self conscious.
Because of this I replied, "Why not go find Ms. Young Pretty Thing at work? I am sure she dresses to the nine's."
Of course, this banter went on for a few more minutes. By the end, as much as I had been just slightly green with a bit of envy remembering working in an office when I was younger way before having had my kids, when I was able to dress and look like something other than a mom. Don't get me wrong when I go out, I do still clean up nicely, but I am a twenty something young kid anymore and cannot compete with that.
However, I then remembered how back then as well dressed and put together as I was, I was a bit envious of those married folk, who had their life all figured out with marriage and kids. It is strange how the grass seems to somehow look greener on the other side of the coin.
Again don't misunderstand me, I love my life I really do, but sometimes at times like this I can't help, but take a walk down memory lane and as I said as bad as it was in my youth with jobs that didn't pay well, friends who could backstab easily and dates who were more self absorbed that you could ever imagine, I tend to remember that time with rose colored glasses and need a swift kick in the ass to remember the reality of it all and how much Kevin does love me.
But in case I ever doubted my husband's love for me or the staying power of our marriage, Kevin summed it up perfectly at the end of our dinner conversation, when he said, "Listen I am not going anywhere and love you. And by the way, I can't afford to divorce you. Half of nothing is still nothing!"
Got to love his honesty and seriously he is charming, isn't he!! And he is all mine!! By the way, I feel very lucky that I can be my comfortable self with him in our daily life and still love getting dressed up a bit when we do go out somewhere, which sadly isn't as often as it once was with two kids, but still when we do I try to dress more like the girl he fell for and less like the everyday frump.
And it is conversations like this one and the ending that make me remember that we compliment each other nicely with the little and the big ideas that make a marriage work. We tend to joke a lot, but we are also so very real with each and still can love each other afterwards. We know how to communicate even through our sarcasm and accept each other just as is, which I think is an important aspect to have in a marriage.
I have again linked up this week to the Happy Wives Club and to join click on the link below: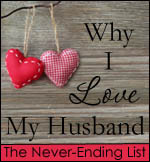 Less than a week left for the Circle of Mom's Contest, which runs through February 13th. Please click the button below or the one on my sidebar to vote for me their as well. Thanks as always!!
Don't Forget to Vote. Your Vote Counts and Is Appreciated!!

Please Visit my Sponsor of The Month: