Welcome back to Finish The Sentence Friday Blog Hop (FTSF). We give you a sentence and you finish it (however long or short you'd like). Please feel free to link up and follow any or all of our hostesses, which are below.

And our very, special guest host, this week is Katia from I Am the Milk. Please make sure you visit her and show her your FTSF love today!
And now for this week's sentence to finish: "I never understood what the big deal was about…"
Next week's sentence to finish: "If I could go back in time…"
I never understood what the big deal was about…
Parents complaining about messes their kids could make until I became a mom to two little girls who have more toys then our local Toys R Us!
Before kids, when I worked full-time, I would do a major cleaning session once a week on the the weekends, but now after kids I think I am cleaning so much daily that I am cleaning in my dreams, too!
Everyday my two girls like to play with all their toys. They are at least being equal opportunity toy owners I suppose, but still they can't just play with one toy and then put it away. The toy messes around here could make a sane, clean person cringe.
No matter how many times I tell them on any given day to indeed clean up and put away one toy before taking out another toy, they still have trouble with this simple easy direction that is given to them.
I am not joking when I say that they will be playing with their little (they love these little toys) figurine people from the Disney Store and making a castle with their blocks for them when one of them will decide they need to stop and put together a puzzle.
Then the blocks, little people and puzzles are out, but then it is time to place dress up and be a princess. So all the dress up clothes get taken out of the trunks they have these stored in.
As if that isn't enough then, we are onto taking Barbies out. And still yet, all the stuffed animals need to make an appearance.
Every day, I am constantly on my hands and my knees cleaning up little kid messes more times then your average hooker (sorry I went there, but still probably why the knees on my jeans are so worn out).
Ok, I know that may sound crazy and bit over the top, but I am not kidding when I share that I feel as though I am constantly cleaning up after my girls.
Take for instance the other night, right before the girls were going to be getting ready for bed, our home looked like someone detonated a bomb in our living room and their bedroom. They took toys out and just haphazardly strewn them all over.
I began my normal speech of telling them to begin cleaning up and got down to pick up some of these toys with them.
They literally ignored me and just kept playing. They were giggling and being typical little girls (I mean who really wants to go to bed, when playing with toys can be done), but I really just couldn't help, but get annoyed and the more I tried to reason with them the more they could care less.
What happened next, surprised even me!
I truly couldn't contain myself and ended up blowing my cork so to speak and found myself under our kitchen sink to retrieve a big white plastic garbage bag and began throwing away all the toys on the floor I could get my hands on.
Of course, when they realized, they cried and screamed, definitely were not pleased with me.
Somehow, Kevin and I got them to bed and the toys remained in the white garbage bag on my couch that night.
The following morning, I held my ground and still wouldn't let them have those toys and told them they needed to earn the toys back by proving that they could take care of their toys better and also be able to straighten up the messes they do make without having to be told or forced to do so.
Lily, of course, tried to be cute and snuck out her Anna (Frozen) stuffed doll from the Disney Store that she was given for Valentine's Day from us.
She came walking into my room later that morning asking, "Can I have this?"
I knew right away Anna had been in that bag and proceeded to ask her how she got Anna?
She told me, "I just wanted her."
Five minutes of back and forth trying to get her to admit that she took the doll out of the bag, when she finally caved.
She was hysterical and just wanting her doll back.
I admit my taking the toys away this way might have been excessive, but I truly was not sure how else to get them to listen and make my point. I think the punishment in this case by the way, definitely did indeed fit the crime.
I have since slowly been giving the toys back (Anna got given back first) as I see fit and must say they are beginning to clean up better for me daily. Not going to lie, still not perfect, but as they say, "Rome definitely wasn't built in a day!"
Now that I shared what is a big deal for me, please share yours here with us today.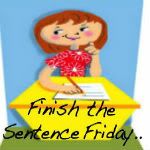 [inlinkz_linkup id=388717 mode=1]
It is officially Spring! Alex and Ani are excited to provide you with a new colorful beaded bangle collection. Brighten up your charmed arm color palette with vibrant hues and warm neutrals. Each bangle is expandable ensuring the perfect fit for every wrist. This completely original design allows everyone to have a piece of jewelry which is truly customized.
Brighten Up Your Charmed Arm Color Palette with Alex and Ani
Please Check Out My Lovely Sponsor of the Month…