Welcome back to Finish The Sentence Friday Blog Hop (FTSF). We give you a sentence and you finish it (however long or short you'd like). Please feel free to link up and follow any or all of our hostesses, which are below.

Please note that Kate is taking a week off and will be back soon. But do feel free to link up with the rest of now!
As well as, our special Co-Host this week (and so happy to have her joining us!):
April from 100lb Countdown. So, please do visit her and show her some love today.
And now for this week's sentence to finish: "I'm done with school, but…"
Next week's sentence to finish: "I went to a concert…"
I'm done with school, but…
To be honest hoping not ever to have relive my schools days.
Not that I hated or loathed school by any means or had a particularly bad experience, but still truly hope that I don't have to go back and be a school age student again.
Don't get me wrong, I had some great days during my school years and am nostalgic at times. I mean this was a time when I first realized I wanted to be a teacher. Seriously who could forget that, if you read and follow my blog.
And I also will never forget my elementary school graduation and a few months even shared a video of it here that an old friend had uploaded to YouTube and had Facebook messaged me the link to believe it or not. (Feel free to watch it now, but I warn you it is well over an hour long).
Talk about a blast from the past from all the way back to 1989!
But still, too much time has indeed passed and much to much water under the proverbial bridge for me. Even though, I shared here last week, how much I still love and adore the 1980's here.
So to be honest, I am truly happy in the here and now with my husband and girls.
And one final note about school days, I am truly glad that I am not in school now for the reforms and federal/state testing. I truly am worried for my girls now and the fun definitely will begin this fall for Emma starting Kindergarten (for more on my feeling about this click here). Wish us luck!
Now that I shared my feelings about being done with school, please share yours here with us today.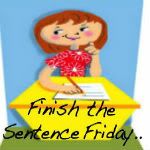 [inlinkz_linkup id=383832 mode=1]

Alex And Ani Special March Of Dimes Bangle-
I'm excited to announce the launch of a new Charity by Design bangle at Alex and Ani. Shop the new Special Delivery charm today and 20% of the proceeds will go directly to the March of Dimes, to help moms have full-term pregnancies and research the problems that threaten the health of babies.
A new baby is a true miracle, a gift from above, and a celebration of life. A stork symbolizes new beginnings as it aids in the delivery of fresh thoughts and new ventures as part of a bigger plan. Honor the blessing of motherhood and commemorate this extraordinary step in life's journey with the Special Delivery Charm.
Shop our new Special Delivery Charm at Alex and Ani – 20% of Proceeds Benefit March of Dimes
Please Visit my Sponsor of The Month:
One Click Is All It Takes!!