I find it amazing that I sit day in and day out writing on my computer doing this thing called blogging.
Many in my life don't exactly get what it is that I do here. They know I write, but the intricacy that goes into blogging, not many know this unless you too are a blogger.
This is where Facebook and support groups come into play to help ease the blogger's needs, doubts or just to be able to relate to others in a similar boat as yourself.
I have been blessed and shared on here many times over just how blessed by all the wonderful amazing brilliant people I have had the pleasure of getting to know through blogging and becoming friends with.
A side note, I am a huge Beatle fan and this week more then ever with them celebrating the 50th anniversary of the performance on the Ed Sullivan Show (yes I watched the CBS special on Sunday night), I have been listening to their music non-stop. So, I think it is fitting that as I was writing this post I kept coming back to titling this "With a Little Help From My Friends".
But back to the issue at hand, most of these bloggers/writer, I have never laid eyes on in a real life setting. Yet, it is amazing to me how I have friends (and I say friends, because I do very much consider my blogging/writing friends, just that — friends) all over the globe.
And then again every once in awhile, I find bloggers practically in my own backyard.
One such blogger is Kathy from My dishwasher's possessed, who lives literally about 20 minutes away from me.
Kathy and I got to know each other through a shared and mutual Facebook group, which I must admit I consider like a second home to me. I may not always comment on every post, but I definitely am a lurker and add to the conversation when I can and my time permits.
But Kathy has always been so kind to me and our friendship has developed over the course of the time I have gotten to know her through this group.
I admit I was truly honored and humbled, when Kathy contacted me to help her transfer her blog from Blogger to WordPress, as well entrusted me with the new design for her new self-hosted blog.
Even more honored was I, when Kathy told me she wanted to introduce her blog for the first post with an interview of me.
So, please head over to Kathy's new digs here now and read the interview that she crafted for her inaugural post with me.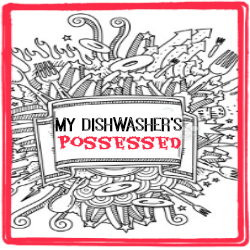 And to Kathy, you better believe when the Polar Vortex, as well as the snow-maggedeon leaves our neck of the woods, we are going to have to meet in person after all we have shared so far, I think it only fitting that we get to meet.
Tea Collection Affiliate Offer~
Wear the love and give back this month with Tea! Save $25 and receive FREE shipping when you spend $150+ on Tea Collection. Their latest line is flavored with the spice of Morocco and is sure to make your heart go pitter pat! But you'd better hurry because this offer only lasts THIS WEEK, Feb. 11 – 14. Just be sure to use the promo code: FALLINLOVE at checkout.
And, to help you to spread the love to others, Tea Collection's Spring School Days Fundraiser will give 15% of sales to your favorite school or non-profit organization From Feb. 24 – March 2, 15% of all sales on Tea Collection made by you, your friends and family can be donated towards a school or non-profit organization of your choice. Just go to http://www.teacollection.com/about-tea/our-values#schools for more information on how to sign up your school or non-profit and start donating!
This post contains affiliate links which means I may receive a commission if you click a link and make a purchase.
Giveaways This Week~
1. RAVPower~
Thanks to RAVPower, one of my luck readers has a chance to win their very own RAVPower External Battery Pack Portable Charger.
Just enter the Rafflecopter below.
All entries with be verified and only open to those in the US.
2. Amandas Books And More 2nd Blogiversary~
The Prizes are:
1 Beautiful set of jewelry by Alli Flair
1 Month Free Ad Space on Janine's blog
1 Month Free Ad Space on Tamara's blog
Contest runs: 11 February to 25 February (2014) Open: Worldwide/Internationally How to enter: Please enter using the Rafflecopter widget below Terms and Conditions: This competition is open worldwide. 3 winners will be randomly drawn through the Rafflecopter widget and will be contacted by email within 48 hours after the giveaway ends. Each winner will receive 1 of the 3 prizes. The first winner will be sent the beautiful set of jewelry by Alli Flair via standard post or airmail. Your host cannot be held responsible for what happens once the package is mailed. The second and third winners will each receive free ad space on one of the two blogs mentioned. The winners will have 72 hours to respond. If any of the winners do not respond within 72 hours, a new draw will take place for a new winner. Odds of winning will vary depending on the number of eligible entries received. If you have any additional questions – feel free to send an email to morleychristina(at)gmail(dot)com
a Rafflecopter giveaway
Don't forget to check out my web design company for specials running at
J9 Designs
for all your web design needs, plus we offer
Paypal's Bill Me Later
, too! Also read our latest article on my very own BlogLovin Tips for Plucky's Blogging Tips & Tricks Series Part 2 with not only these blog tips coming your way but an awesome giveaway that is running now, too
here
.
Please Visit my Sponsor of The Month:
One Click Is All It Takes!!