"All good things must come to an end and it is the memory that lasts."
I have heard this saying for years now and have felt a bit of the blues when the larger than life moments have indeed come to an end here.
So, I had an inkling that when our recent Disney vacation would end that I would be a bit down and deflated from the awesome times coming to a complete and sudden halt.
Don't get me wrong, I am so thankful and grateful that we could take this trip and make so many magical memories, but still I would be lying if I said re-entry into our normal, everyday lives was a smooth or easy transition for me.
In theory, we landed and did return safely and smoothly, but trying to re-acclimate back to normalcy has been a bit bumpy to say the least as our vacation was much needed and a long time coming.
Yet, we landed at 7 pm on a Saturday night after being away from the previous Saturday (over a week of downtime and being off the grid for most of it). By the time, we returned home, grabbed a bit to eat (fast food totally comes in handy at times like these), unpack, do laundry and attempt to get settled, it felt like pre-vacation and vacation was another lifetime ago.
It is only now that I am sitting sifting through the photos we have amassed (almost 500!) from the week at Disney that I am letting all the magnificent memories wash and flood over me, because Disney is truly magical and my favorite place to visit.
Disney is most definitely, "The Most Magical and Happiest Place on Earth", but even at Disney you take the good with the bad and the ugly, too.
The Good…
1. Staying at a World Class Disney Resort that featured the following:
Three different, but equally unique dining experiences, a temperature controlled pool with a fun water slide for the whole family, a kid's water play park experience, pool side bar with all sorts of yummy, alcoholic beverages, two relaxing spa hot tubs, a beach for late evening Disney movie viewing, as well as a boat docking area that allowed for quick, easy and direct access to Disney's Magic Kingdom all day and night long.
2. Access to all of Disney's Parks, including Magic Kingdom, Epcot, Hollywood Studios, Animal Kingdom and their two water parks and Downtown Disney, as well.
3. The Park experiences that we attended each in their own right were extraordinary and well worth the time to visit.
4. Hands down though was Magic Kingdom being our favorite with our girls first trip to Disney, as they loved all the rides and attractions geared more towards their age here, including Fantasyland section of Magic Kingdom, which houses the huge and grand carousel, It's a Small World, Peter Pan's Flight, The Many Adventures of Winnie the Pooh, Journey of the Little Mermaid, Dumbo the Flying Elephant, Mad Tea Party, Seven Dwarf's Mine Train, The Barnstormer and so much more.
5. Plus, I would be remiss if I didn't include the princess aspect at Magic Kingdom with Cinderella's Castle, which found us meeting Elsa and Anna, as well as at the enchanted Bibbidi Bobbidi Boutique, where my girls got to experience a complete princess makeover with their own fairy godmothers to transform them for that evening dinner at the castle in Cinderella's Royal Table with Cinderella and all the princesses.
6. The Dining Plan, which allowed for some of the best eating experiences I have had in years, including the aforementioned Cinderella's Royal Table, our hotel's own Whispering Canyon Cafe with interactive dining, as well as Downtown Disney's Irish Pub Raglan Road, which included not only a fabulous traditional Irish menu (the bread pudding is to die for!), but also live entertainment with children getting the opportunity to learn basic Irish Step Dancing on stage with the restaurant's trained performers/dancers.
The Bad…
1. The Heat –
Yes, we made the brave decision to vacation at Disney World in Orlando, Florida during the dog days of Summer in August hearing from all who could add their two cents previous to our vacation, "You are going to be so hot!".
So no surprise that one day during our stay found the temperature reading tipping out at over 100 degrees and found us re-arranging our original plans of spending the day at Animal Kingdom for a leisurely, daytime hotel pool experience and then heading back to Magic Kingdom for cooler, evening plans instead.
Another day found us, sticking to our original Hollywood Studio planned visit, but melting like Olaf would in the summertime for hours on end while trying to at the very least take as much of the sights in.
2. The Rain-
Again it is August and summertime, which not only means heat, but also means some form of rain pretty much every day. Most of the rain is short and quick lived, but comes on as quickly as it departs. However, our first full day at Disney in Epcot, we not only had a very hot, humid day, but that evening we had one of the worst rain storms of our whole vacation to deal with that almost made us miss our dinner reservations for that evening as we were stuck down at the Bus Depot seeking shelter from not only heavy downpours, but thunder and lightening, too.
Two side notes, here to be added here. First, ponchos in Disney are a necessity to have on you at all times. And Akerhaus Banquet Hall for the Disney Princess dinner was hands down one of the worst dining experiences of our trip, because of their poor handling of reservations and thunder/lightening occurrences. I won't be wasting a table service credit on this restaurant again in the future and will make sure to stick to the Magic Kingdom with The Royal Table for our princess dining needs.
3. The Long Days –
One day alone we spent over 12 hours at Magic Kingdom followed by an early morning breakfast at the Disney Contemporary Resort at Chef Mickey to meet Mickey and Pals. Which lead to our next vacation bad…
4. The Meltdowns (Kids and Adults Alike) –
We were all worn out, tired and grumpiness found us even at the happiest place on earth after our aforementioned long Magic Kingdom day before. So right before entering Chef Mickey's the following morning for breakfast, both girls were fighting over which strollers they would sit in and one of my girls literally couldn't hold her temper or tears by this point, melting down completely. Thank god, it was quick lived, but still not a fun moment by any means for any of us.
5. Stroller Living –
Both my girls normally are past the stroller age, but since the days and nights are long, as well as the amount of walking on the higher side, most with young kids in Disney opt for strollers for kids of all ages, us included. So we brought our own from home, but having to lug them around and keep track of these strollers was definitely not fun by any means during our week stay.
6. The Crowds –
No matter what time of the day, you visit Disney, there are always tons of people at any given park. Fast passes for rides (you only get three per day) do help a bit, but still you will wait in line at some point or another. It is just a given!
The Ugly…
Dropping my iPhone 6 in the toilet (a clean one, but still) – This one is all on me. Even though, I had purchased and was utilizing an Otterbox case from Amazon Prime, still found out the hard way that water and an iPhone is no bueno!
Although after I did have this occur to me, I was told by quite a few down in Disney that it is quite common for phones to get dropped, wet or damaged in Disney. Go figure!
But still, I very much managed to drop my phone while texting my brother, who was vacationing with us, but had gone on his own for a few hours and was now wanting to meet back up with us in the toilet of our hotel room three days into our vacation.
Thankfully the toilet was clean, but I had gone into our bathroom as I thought I had forgotten something in there and my phone ended up taking a not so planned dip in our hotel room toilet. I googled how to possibly fix the situation at hand. Rice seemed to be the overwhelming response.
Special thanks and shoutout to the Wilderness Lodge hotel staff member that got me a bag of rice from one of their three restaurants. I left the phone in overnight as he instructed, but sadly my iPhone was still not functioning right with the touch screen being the worst of the damage incurred. My biggest fear losing all the photos I had taken that had not seemingly clouded onto cloud from my phone from the first few days of our trip.
So off to the Apple Store in the local mall by taxi, which cost me over $60 to get there, three hours of wait time without a phone or any other communication with the outside world, $350 to get a new phone, plus another $50 plus cab ride back to my resort before putting the whole sordid, ugly tale behind me.
Moral of this ugly story of our Disney vacation is that water by any means is seriously no good for the technically, advanced inner working of an Apple iPhone. Expensive and costly lesson for me for sure!
The Bottom Line…
Disney was absolutely amazing, indeed magical and all we dreamed of and more even with the bad and ugly that reared its head, the good most definitely outweighed it by far. That said, it is honestly a favorite place for me by all accounts.
So much so that we are going to be partaking in another trip there in less than two months time, this time in July for our summer vacation this year, too. So excited and cannot wait now to have more Disney vacation, magical adventures in the near future soon. But fingers crossed for no more iPhones getting broken during this upcoming visit!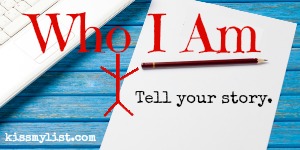 *This was originally published late last summer, but am re-worked and re-sharing today for the Who I Am prompt for May with Dana of Kiss My List and Bev of Linkouture, as Disney is still very much my favorite place on Earth.