Welcome back to Finish The Sentence Friday Blog Hop (FTSF). We give you a sentence and you finish it (however long or short you'd like).
"Speaking from experience, I'm going to give you a little advice on…"
Next week's sentence to finish: "You want to know what I think of social media? I think…"
Speaking from experience, I'm going to give you a little advice today on Potty Training!! Having had two babies in under two years, I think there is probably plenty I could give advice on what to do and more specifically on what not to do. Let me rephrase this and tell you I probably made every mistake known to man with my first child and still make plenty daily, but especially with potty training.
When Emma was around 18 months old, I tried to sit her on the Elmo potty seat we had let her pick out. See Emma's first main man, other than her daddy, was Elmo. She was obsessed and would stop everything once Elmo's World would come on during Sesame Street.
One Sunday, we took her to Babies R Us and showed her the different potty seats. Emma was a late talker and was saying a few words here and there, but not enough to communicate if she had to actually use the potty seat. So what made me think I could try this with her was beyond me, but I heard so many other mothers trying with their kids before they even turned two, so of course I thought we could do this.
When we got home, I opened and assembled the potty seat. By assembled, I mean put the deflector shield on. Yep, I have a little girl, but had no idea the difference or even what this contraption did. So, I thought if they included it, it must be needed (it took me a few days to realize I was mistaken).
Lo and behold, right before bath time that night, Emma had to poop. Yes, I could see her straining and grabbed her to try to put her on the Elmo potty seat. She stiffened her back and was dead weight when I tried to do this, because she had no idea what the hell I was doing to her. Eventually she calmed down and actually sat and pooped, but after that incident, I couldn't get her to go near the damn potty seat for weeks. I pretty much left her traumatized at how that could come out of her and then be flushed in the actual toilet.
It would stand to reason that the next time I did try to get her to poop on the potty seat, she fought me vehemently and I gave up for over a month before I even attempted to go there again with her. We went on like this until almost September, two months after she turned two years old. Finally, she tried again and peed in the potty. I thought we had a breakthrough and was all excited. I went out and bought M&M's and pull-ups. Guess what? She would eat the M&M's, when she used the potty, but was still wetting the pull-up, too. So frustrating and even after reading all the books was still at a lose and no closer to having her potty trained.
Also, she would drink and couldn't even hold her bladder for 20 minutes before needing to go. Yes, I tried timed intervals like all the books said and apparently 20 minutes was too long. So, we were down to about a 10 minute window after drinking liquids, which truly didn't give me much time.
Kevin looked online for ideas. He printed out a chart and stickers. This worked for a few days and then she lost interest. He found a potty watch online that she could wear and we could time for her. She loved the watch, but then 3-4 days later hated it.
I was truly at the end of my rope and we went through this for almost 6 months, where we would make progress and then she would backslide. We truly tried every thing we read or heard, hoping something would stick. We even tried putting underwear in her pull-up, so she could feel what it felt to be wet. She honestly didn't seem to notice or care.
Finally, Kevin suggested that we stay in for one whole weekend and just let her wear underwear and her regular clothes. If she wet them, she would definitely feel it and that was that. I was went along, but worried about how many loads of laundry I would have to do depending on how many accidents she may have,
Well, the first day she had one accident and being that she was completely soaking wet, she cried and hated it. That night she went to bed in a pull-up, but somehow managed to stay dry the whole night. Back in underwear the next day and she managed to stay dry the whole day and the next day, too. By the third night, she told us she no longer needed pull-ups at night and she meant it. Finally after 6 months, she was pretty much potty trained, but like I said only after making every mistake I could make to get to this point.
I swore with Lily that I would wait until she was ready and was in no rush with her. Most here know she pretty much did just that. She was potty trained at a little over 2 years old on her own terms. I won't rehash that one, because you can read all about in the posts I previously wrote.
I will say this if you are potty training, the biggest thing to look out for is the readiness of your child and if he/she actually has some interest. I would also say pull-ups are a great training tool, but don't get stuck in using pull-ups for the long haul, because many kids seem to use this as a crutch. Meaning transition to regular underwear sooner rather than later if you are seeing more successes than failure here. Along the lines of the underwear, buy character underwear that they can relate to. For instance, Lily loves Minnie Mouse and I bought her underwear with Minnie on them, this truly gave her more incentive, because she wanted to wear Minnie and not have to go back into pull-ups.
Finally good luck and god speed. Seriously, potty training isn't always easy or happens overnight. It can be one hell of a roller coaster ride with many ups and downs, but in the end it should all work out. Just try to relax and take it one day at a time.
Now tell me, in the comments, about something you could give all a bit of advice on. Or write a post and link it up! And be sure to share my story with all your FB and Twitter friends. We'll also be featuring some of our favorites on Twitter with the Hashtag #FTSF and our Facebook pages too, so make sure to follow. Don't forget to grab a button and put it somewhere people will see. We are hoping to keep this hop going strong and continue this for a long time to come!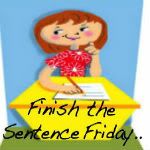 Loading InLinkz …
Also, don't forget, that Capa Java is offering my readers for first time orders for all Keurig needs, including K-Cups and Brewers, 10% off by using the code, MOMMYAHOLIC. Don't miss out and if you love K-Cups as much as I do, this is an awesome offer!!
Click here to visit CapeJava.com | Keurig K-Cups and Brewers
Don't Forget to Vote. Your Vote Counts and Is Appreciated!!

Please Visit my Sponsor of The Month: