Welcome back to Finish The Sentence Friday Blog Hop (FTSF). We give you a sentence and you finish it (however long or short you'd like).
"You know what I think of social media? I think…"
Next week's sentence to finish: "I tried to cook…"
You want to know what I think of social media? I think…I am addicted. It started quite innocently with joining Facebook when I was pregnant with Emma. I was only on there to connect with family and friends. I never even belonged to MySpace and had been vehemently against it having been a teacher. This kind of activity was frowned upon, because you didn't want your students and their parents to know about you outside of school or your personal life.
But lo and behold, I caved with Facebook back in 2009. I truly just wanted to share this special time of my life with my first pregnancy. Little did I know what was in store for me.
I was good though for so long. It was just family and friends that I connected with on Facebook. Through the first year of Emma's life to my subsequent pregnancy with Lily to her first year of her life, too I managed to stay focused online.
Then, I started to collect Pandora charms. That, too, began innocently enough with Kevin doing something nice for our five year wedding anniversary. I began out with four charms and a starter bracelet. One day, I googled more about Pandora and charms to come across a Facebook group that bought, sold and traded these charms. Again, it was just a passing fancy that soon turned into a small obsession. One group turned into two and then three. Soon enough I belonged to about 10 of these groups, had attended a Pandora Party in NYC and had even gotten in Trollbeads, which was another charm company.
I was in deep. Not even sure exactly how I got out of that mess, but it was about this time I began to write for Hubpages and sharing about my charm collection. I think that helped me quite a bit, because writing these articles (actually writing period) left me little time to obsess over these charms.
However with Hubpages came the need for more exposure on social media. First it was more Facebook time, but pretty soon I opened a Twitter account. I had no idea what I was doing on Twitter, but still joined (I still have my 'duh' moments on here, but have learned a ton in such a short time).
As the summer drew to a close, I began to blog personally. Well now, I not only was on Facebook and Twitter, but I had to add Google + and Pinterest, too. LinkedIn and even BlogLovin' followed, as well.
Not a day has gone by that I haven't not checked in multiple times on all these different forums in recent times. The only such time that I didn't was during Hurricane Sandy, when I didn't have power. And that truly was the longest two days of my life.
I am not sure how I lived without the internet and these sites in particular. I was just talking about Pinterest today with my cousin and she was saying how addicted she is. I told her that was truly nothing, because I am not only addicted to Pinterest, but most of the popular social media sites. She thought I was joking, but I assured her I wasn't.
So what do you think? Are you too obsessed or know someone that is? It is just me? Do you think there is a 12 Step Program for this? Because if there is, I believe I more than qualify for this one!!
Now tell me, in the comments, about times when you were indeed frustrated (you're in good company as you can see from above). Or write a post and link it up! And be sure to share my story with all your FB and Twitter friends. We'll also be featuring some of our favorites on Twitter with the Hashtag #FTSF and our Facebook pages too, so make sure to follow. Don't forget to grab a button and put it somewhere people will see. We'd are hoping to keep this hop going strong and continue this for a long time to come!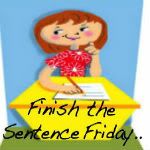 Loading InLinkz …
And now please don't forget enter to win some Peeps Candy for yourself in my Peeps Giveaway here: a Rafflecopter giveawayFor more information on Peeps Products and special promotion for my readers, Peeps and Company is offering 15% off if you spend more than $35 by using the code HEYMOMMY. Valid until 3/31/2013.
Don't Forget to Vote. Your Vote Counts and Is Appreciated!!

Please Visit my Sponsor of The Month:
For Spring Sale Special Advertising Rates, Please Use Special25!!!