Welcome back to Finish The Sentence Friday Blog Hop (FTSF). We give you a sentence and you finish it (however long or short you'd like). Please feel free to link up and follow any or all of our hostesses, which are below.
And now for this week's sentence to finish: "I tried to cook…"
Next week's sentence to finish: "I did something really stupid once, I…"
I tried to cook many things in my years. I love to cook and bake. I don't know where I actually got this talent from, because my mom would tell you she hates to cook and will barely try.
When I said I needed to finish this sentence, her first response was a story I have heard over and over from when she and my dad first married. Apparently, she was trying to re-heat my grandmother's meatloaf (this was cooked and sent home with them to have as meal) after a long day of work. She threw the whole thing in the oven and when she checked something was definitely amiss. It seems she forgot to take to Saran Wrap off of it before putting in the oven and turned it into a shrinky dink!! For those not old enough to know what a shrinky dink actually is. See the picture to the right, because I may be dating myself for some on that comparison.
The burn Looked Very Similar on My Pinky–Ouch!!
However, my mom reminded me of two times that I actually did have mishaps in my kitchen after sharing the above story again. The first happened months after we first got married and were living in our one bedroom apartment. The kitchen was definitely on the smaller side. The stove literally was almost right on top of the adjacent wall. And behind the stove, as well as the sides of the stove next to the burners, was a stainless steel metal backsplash panel. I was cooking a pasta dish for us and stirring the pan, when somehow I had forgotten to wear my oven mitt and hit my pinkie into the stainless backsplash on that side wall. Let's just say I think I had at least 2nd degree burns on my little pinky, because the skin blistered and then just rubbed right off. It was so very painful and took weeks to heal properly. Every time I had to get near water, whether to wash dishes or shower, I just wanted to cry for how badly it hurt. I truly hope to never do that again.
The other mishap I had when cooking would be when I was making peppers and onions for Chicken Fajitas. I have made this meal millions of times now and never had a problem, but one time in particular, I had a major issue and not even sure how I did this, but I had the olive oil in my covered skillet heating. When I went to take the cover off to add the sliced onions, there it was. My skillet was on fire. I am not joking when I say the flames bolted up and I jumped about 10 feet back. All my good senses and judgement went out the window and seriously had no clue what to do. Thank god Kevin was home and he took action immediately putting the fire out with our fire extinguisher. But unfortunately I had ruined a perfectly good skillet. Yet, thankfully I still had most of the ingredients for the actual fajita dinner to start over, but had to finish in my frying pan.
So, I may just have gotten something from mom after all and that is my penchant to be a bit clumsy and create kitchen catastrophes judging from the two experiences I described!!
Now tell me, in the comments, about times when you tried to cook (you're in good company as you can see from above). Or write a post and link it up! And be sure to share my story with all your FB and Twitter friends. We'll also be featuring some of our favorites on Twitter with the Hashtag #FTSF and our Facebook pages too, so make sure to follow. Don't forget to grab a button and put it somewhere people will see. We'd are hoping to keep this hop going strong and continue this for a long time to come!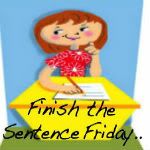 Loading InLinkz …
Please don't forget to enter the Fun Fridge Magnets Giveaway below, if you haven't already:
Don't Forget to Vote. Your Vote Counts and Is Appreciated!!

Please Visit my Sponsor of The Month:
For Spring Sale Special Advertising Rates, Please Use Special25!!!