Welcome back to Finish The Sentence Friday Blog Hop (FTSF). We give you a sentence and you finish it (however long or short you'd like). Please feel free to link up and follow any or all of our hostesses, which are below.
And now for this week's sentence to finish: "I did something stupid once…"
Next week's sentence to finish: "One time when I was bored out of my mind, I…"
I did something really stupid once, I…actually did plenty of stupid things and sat here for the first time ever with Finish the Sentence Friday and had a hard time coming up with just one majorly stupid thing that I did. Two did come to mind, but remembered that I actually shared them on here previously, but will recap them quickly for those who may have missed and need another good laugh at my expense!!
Everyone on my blog knows how I passed out in college public speaking about 30 seconds into my speech, because I was sick to my stomach earlier in the day and hadn't eaten anything. Luckily my teacher took pity on me and after looking at my speech notes gave me a B+ and called it a day.
And you all know also how I almost overdosed on Magnesium pills and drinking too much Chai Latte practically crapping my brains out, bleeding from an internal hemorrhoid and passing out from all this on my bathroom floor all while trying to transfer my blog to my own domain name and to Host Monster.
Seriously gang, couldn't make those two up if I tried. And those were the only two times, that I actually passed out, but as passing out those two times were ridiculously stupid moves on my part and won't even deny it.
But what you don't know is the most crazy dumb ass thing that I ever did that changed my life forever. And I am going to share that with you all now. I was actually 10 years old and roller skating right outside my childhood home. I always loved to roller skate and even went to the rink quite often back then. I was also actually pretty good and could skate with the best of them.
But this one particular day, I was skating and went to do a spin that I did a million times before. Only this time, I lost my balance. I tried to grab a hold of the back of my dad's car for support, but it was too late. I fell on my ass literally and let me tell you I have been paying for that move ever since.
Why you ask? Well, I broke my tailbone that day and it set off a chain of reactions that I can never truly change. From that fall, I weakened my lower back muscles. For years, I had suffered with lower back pain, but by the time I was in my twenties, I foolishly thought it had healed and never really felt much residuals from it for a few years at that point.
However, one morning about a year or so after Kevin and I were married, I was getting ready for work. I moved the wrong way and threw my whole back out with the worst spasms to boot. I honestly never even saw it coming, but am not kidding when I say, I literally couldn't move. Somehow though I got myself to work (was teaching at the time). I could barely walk and if I sat down I couldn't get back up without wanting to cry and/or pass out. Why I even went is beyond me!
One of the other teacher's though took pity on me and actually took over my last period class of the day. Do not ask me how I drove home, got out of my car or even made it into my house. I did, but literally moved like I was 90 years old and each movement brought tears to my eyes.
When I did get in the house, I caved and searched our medical insurance to find a chiropractor, who would cover us. My brother actually drove me and carried me into the place. They immediately prescribed me muscle relaxers and pain pills (the good stuff). I got diagnosed and was in physical therapy for about three months after that.
Once again, I thought I was healed and resumed my normal life. I got pregnant and had Emma with little to no issue with my back. Then, I got pregnant with Lily. I made it all the way to the weekend before I gave birth to her and she ended up moving onto my sciatic nerve and was in back labor with her to boot. By the grace of god, I had a natural delivery with her that Tuesday and afterwards my back felt a bit better.
But lo and behold, I had about two flareups the first two months after giving birth to her. The third time I had a flareup was the actual day of Lily's Christening. I was in so much pain that I took the old pain pills that were expired apparently from the time I threw my back out before I had both my girls.
Guess what happened next? I got so sick to my stomach and barely made it home from her Christening before I threw up and ended up repeating that about three more times that night.
As if the throwing up wasn't bad enough, I could barely bend down to aim into our toilet bowl from my lower back pain. That did it for me and that Monday I found another local chiropractor, who accepted our now insurance coverage. I have been going to him for over two years. In the beginning, it was more to help me deal with the physical pain, but now that he has lessened the pain, it is more about maintenance with the weekly visits.
And yet now we come full circle, because a few weeks ago Emma started asking to learn how to roller skate. And guess who she wanted to teach her? You got it, me!! Seriously, for a person who loved skating, I swear after all I have been through if I never saw another skate I think I would die happy. But dollars to donuts, she will win and make me feel guilty. Just pray for me that I don't fall again, because god knows what I could do worse to myself, but sure don't want to find out!!
Now tell me, in the comments, about times when you did something stupid (you're in good company as you can see from above). Or write a post and link it up! And be sure to share my story with all your FB and Twitter friends. We'll also be featuring some of our favorites on Twitter with the Hashtag #FTSF and our Facebook pages too, so make sure to follow. Don't forget to grab a button and put it somewhere people will see. We'd are hoping to keep this hop going strong and continue this for a long time to come!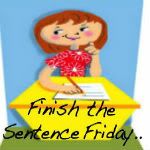 Loading InLinkz …
Please Visit my Sponsor of The Month:
For Spring Sale Special Advertising Rates, Please Use Special25!!!
One Click Is All It Takes!!
Now, also please don't forget to enter the giveaway from Raising Reagan, that Lanaya, myself and others have coordinated to giveaway Free Ad Space, as well as a $25 Amazon Gift Card, below: