Welcome back to Finish The Sentence Friday Blog Hop (FTSF). We give you a sentence and you finish it (however long or short you'd like). Please feel free to link up and follow any or all of our hostesses, which are below.
And now for this week's sentence to finish: "One time when I was bored out of my mind, I…"
Next week's sentence to finish: "If I could hang out with any celebrity, it would be…"
One time when I was bored out of my mind, I…wracked my brain to remember a time that I was actually bored and truly had a hard time recalling such an instance. I am sure when I was younger and before I had kids this was indeed true at some point, but I will be honest being a SAHM to two little girls and also one who works (blogging and writing) from home, I truly don't have the luxury to be bored.
I literally am busy all day long from the moment I get up until the moment I go to sleep. And even when I tell myself that I will take a break and do nothing, somehow I find something else I need to do and then I am busy all over again.
But if I ever somehow had a free moment and did find myself bored, I have to admit I truly don't think I would know what to do with myself. Although, if I think for a moment I am sure I could come up with something to fill my time and will now list:
The Top 5 Things to Do If I Ever Get Bored:
Read a Good Book–I have about 10 books on my Kindle that need to be read and had downloaded during Hurricane Sandy. I was too afraid I wouldn't be able to recharge my iPad to read so I ended up limited my reading. So, now I have many books I need to read and catch up on.
Watch TV Shows or Movies on My DVR–Kevin and I DVR so much, but only have a limited amount of time to actually watch and catch up. We finally got to watch the first part of the final Harry Potter movie last week. We still need to watch the second part and maybe I could actually watch it before my kids are all grown up!! I mean I know how it ends, because once upon a time before having kids I was a huge Harry Potter Fan and read all the books (yes friends I love to read and so miss it!!). But I would love to see it in the actual movie for myself.
Clean Out My Closet–Yes, I have a ton of clothes I no longer wear and really should get rid of outfits I wore over 10 years ago. Sadly bell bottom jean are no longer in style!!
Vacuum and Dust--This would only happen if I literally had nothing and I mean nothing to do, because oh how I hate both chores with a passion. Don't get me wrong, I do both, but seriously put it off until it is absolutely necessary!!
Clean the Bathroom/Toilet–If you think I hate vacuuming and dusting, that is just the tip of the proverbial iceberg. I loathe and detest cleaning the toilet. Seriously between two potty trained little girls and a husband who has no aim, it is a must, but probably the grossest job ever. I mean the smells alone could gag me on even a good day and the actual sight is so not pretty.
Ok, so on further examination my list contains two things that would almost be a reward and the further down you go would be considered torture in some countries!! However I only mentioned things that I could do in my actual home if I was bored, because I am not evening contemplating taking the little monsters somewhere or paying a babysitter right about now. But seriously, what would you do if you got bored? That is the question of the day!!
Now tell me, in the comments, about times when you did something stupid (you're in good company as you can see from above). Or write a post and link it up! And be sure to share my story with all your FB and Twitter friends. We'll also be featuring some of our favorites on Twitter with the Hashtag #FTSF and our Facebook pages too, so make sure to follow. Don't forget to grab a button and put it somewhere people will see. We'd are hoping to keep this hop going strong and continue this for a long time to come!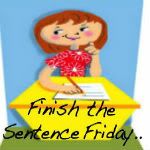 Loading InLinkz …
Also, I entered this and thought I would pass it on for all my readers to enter from Build A Bear Workshop:
We're giving away $10, $50 and $100 gift cards, spring friends and even a Build-A-Bear Workshop party valued at $300 in our Eggcellent Instant Win Sweepstakes! Visit the Build-A-Bear Workshop Facebook page for your chance to win! Valid 3/18 – 3/24.
And please don't forget to enter the Lendperk Dress Rental Giveaway here now if you haven't already:
Please Visit my Sponsor of The Month:
For Spring Sale Special Advertising Rates, Please Use Special25!!!
One Click Is All It Takes!!