Welcome back to Finish The Sentence Friday Blog Hop (FTSF). We give you a sentence and you finish it (however long or short you'd like). Please feel free to link up and follow any or all of our hostesses, which are below.
And now for this week's sentence to finish: "If I could hang out with any celebrity, it would be…"
Next week's sentence to finish: "A typical day in my life looks like.."
If I could hang out with any celebrity, it would be…JK Rowling. I admit I am not really into anyone nowadays in the Hollywood inner circle. I can't get past so much of the crazy antics, sex, drugs and rock and roll, like the Lindsay Lohan's, Paris Hilton's, Kim Kardashian's and so many others.
That said as a writer, I do look up to more than fair share of those who are published and the most famous of them would be the Harry Potter novelist. She embodies all I could wish and hope for. It all began in 1997 with her first published novel. The first in the series with Harry Potter and the Sorcerer's Stone and sixteen years later she truly is one of the most renowned authors of our time.
The Harry Potter Series may be finished for now, but she has gone to have creative control on all the Warner Brothers Gig Screen versions of all her books and even published her first adult novel with The Casual Vacancy.
I have always had a love for her books and even wrote an article with a giveaway included this past week. If you didn't enter you still have a chance below. But seriously, I cannot say enough how reading her books has changed my life. I honestly enjoyed and looked forward to each and every book I have read by her, especially the magical world of Harry Potter.
To this end, she gave a little known writer like myself for hope that I could write my heart out and that maybe someday someone other than my own mother would read my work (not that I don't love my mom's eternal support!). She also made me want to strive to be the best writer I could possibly be.
It is a known fact that Rowling's Harry Potter was rejected by more than a few publishers before Bloomsbury Children's Books. Which again gives hope to me as a writer, who does hope to be published someday in the future. I am not saying I could ever be in her caliber, but nice to know that one of the best was published on her first try and dealt with her fair share of rejection before getting her chance at a published novel.
So to me JK Rowling is truly a hero and would love to meet her to be able as a writer pick her brain a bit. Would love to ask her so many questions and it would just be such an honor to me.
Probably sounds a bit corny and as Kevin would say cheesy, but this is totally a dream of mine.
Now tell me, in the comments, about your celebrity induced dreams (think champagne and caviar dreams and now worries you're in good company as you can see from above). Or write a post and link it up! And be sure to share my story with all your FB and Twitter friends. We'll also be featuring some of our favorites on Twitter with the Hashtag #FTSF and our Facebook pages too, so make sure to follow. Don't forget to grab a button and put it somewhere people will see. We'd are hoping to keep this hop going strong and continue this for a long time to come!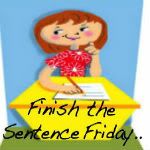 Loading InLinkz …