Welcome back to Finish The Sentence Friday Blog Hop (FTSF). We give you a sentence and you finish it (however long or short you'd like). Please feel free to link up and follow any or all of our hostesses, which are below.
And now for this week's sentence to finish: "A typical day in my life looks like.."
Next week's sentence to finish: "If I could live anywhere I'd live…"
A typical day in my life looks like.. absolute madness and insanity to anyone who might observe me and my family on a daily basis. By the way, I actually just recently answered this question for a guest post I did for Daughter of Maat and pretty much using that post tweaked ever so slightly to answer this week's FTSF. By the way, this is a weekday that I have shared and not a Saturday or Sunday, when Kevin is home and the kids may have dance.
See it all begins with the simple fact that most already know and are aware of that I have two small kids that are only 16 months apart and quite frankly because of this only one word can truly describe my daily life and that is "Crazy!"
That said if you were a fly on the wall in my home, you would see that I begin my day usually between 6:30 and 7 am in the morning. Why you might ask do I get up that early? Well, my kids usually don't, but the reason is that my husband and partner in crime wakes up to get ready for work around this time. The house is still relatively quiet, because he usually goes to take a shower and our girls are as I just said still asleep.
I admit the first thing I do with having peace reign is open my trusty friend, my Macbook and go through e-mails that have accumulated from the night before. Once I get to the bottom of them, then I check out new blogs and Hubpages articles published by friends overnight.
One thing I have learned and that I try to do is read and share as much of my friends' work as possible. I think we can all agree that it is nice to know that you have people who do have your back and care enough to read, leave a short comment and even share or pass on to others if possible. So, this is exactly what I do in the early portion of my morning.
Once that is done, my latest post that was pre-scheduled usually is live by then and will share on all the social media networks that I can.
Then it is usually time to either wake my girls or have them awake and raring to go.
Emma is my morning person. She very much loves the morning and from the time she was about 2 years old would tell me, "The moon is not out and the sun is, so it is time to wake up!"
However, Lily (Ms. Go Big or Go Home) usually will wake up crying and whining telling me, "I want juice!" Yes, she has one track mind and this kid knows exactly what she wants–a cup of Elmo Juice!!
Once, the first glass of juice is had in the morning. Then, both my girls use the bathroom, because they are both fully potty trained (Emma is 3 1/2 years old and Lily is a little over 2 years old). Yes, I know Lily is young to be completely potty trained, but am so thankful that she is and totally was all her (if you read my blog, you know the story behind this). She even now tells me when she goes, that she is a "good girl" and a "big girl", too.
Once the bathroom trip is done, my girls get dressed for the day. And I do have two little princesses (even as I write this Lily is walking around with her Barbie Princess doll that sings, "Princesses want to have fun!") that need to wear skirts everyday. Yes, I swear these two kids both won't wear an outfit unless a skirt is a part of it.
Breakfast is next and then I do their hair, because they are again Princesses, especially Emma, who doesn't like her hair in her face (Pigtails, ponytails and recently braids, too rule!).
Once I am done with this (I am truly grateful for this), I get to take a shower. My parents live upstairs, so usually the girls hang out with my mom, during this time. And I get a few minutes of peace and quiet to take shower, which I swear I love my mom for more than life itself!! That shower makes me feel human and then I am able to get my real day started.
The next portion of the day includes getting a workout in (even for a half hour) on my stationary bike, while the kids play and hang out with me (I am trying to get slim/fit for the summer). They usually watch Disney Jr and by this time Doc McStuffins is on.
After this, I check in online for a bit and then I get lunch together for the girls. We usually eat lunch (yes I try to get a quick bite to eat, too). During lunch, silliness usually reigns and even a bit more crazy times can also occur. Lately, I have had to fight Lily to eat this meal, while she licks her peanut butter off her bread (for some reason my picky eater has decided lunch is optional).
On the days, Emma has pre-school it is usually around this time that we take her to school and then I come back to try to get Lily to nap. If Emma doesn't have school, she too will nap (she still loves her naps).
If nap-time is successful, this is when I get to write and also check in on social networks to see what is new. This is truly my most productive time of the day and that is why I have tried to hold onto nap-time with my kids for as long as I have.
Because once nap-time is over, then it is either time to go get Emma from school or even think about dinner and bath-time.
Kevin also gets home from work now between 5:30 and 6 pm. And once he is home and everyone has eaten dinner, then the kids are usually occupied playing in their room for a bit, Kevin works out for a bit and I surf the web, reply to comments on my own blog and possibly comment more on other blogs, too for about a half hour checking in on friends and such.
Then, it is time to unwind for the day. We usually hang out together with the kids for a bit.
And after that, it is bedtime, where the girls use the bathroom, brush their teeth and then get tucked in. Lights are usually out at this point, but I would be lying if I told you they went to bed that easily. We usually get a few trips out of bed for each girls asking for a tissue, one last kiss or anything that could prolong falling asleep, but once they are asleep I must admit we are lucky, because for the most part they sleep all night and don't hear from them again until around 8 am the next morning (as long as no one is sick and feeling ok).
Once they fall asleep, I usually catch up on the DVR, read or finish up any last minute chores.
And that my friends is a day in my life. Not very glamorous, but it is my life and believe me when I tell you I wouldn't trade it for anything in the world. Yes, it can be crazy, but then again it is also quite entertaining, especially some of the things that my kids come out with daily and that is why I blog/write, because I never want to forget this time in my life and have a record of it to share with my girls when they are older.
Now tell me, in the comments, about a day in your life. Or write a post and link it up! And be sure to share my story with all your FB and Twitter friends. We'll also be featuring some of our favorites on Twitter with the Hashtag #FTSF and our Facebook pages too, so make sure to follow. Don't forget to grab a button and put it somewhere people will see. We'd are hoping to keep this hop going strong and continue this for a long time to come!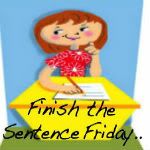 Loading InLinkz …
For this week's giveaway, I have partnered with BreAnna from Peacoats and Plaids, alongside some of her other wonderful March Sponsors to bring you the following giveaway:

The weather is FINALLY warming up.
You know what that means, yummy frozen coffee drink time! Let us help you out with that…
Up for grabs: a $20 Starbucks E-Card
It's an e-card so that means it's open worldwide, woo hoo!
As long as you have an email address to send the e-card to, and access to a Starbucks I suppose.
Make sure you stop by the aforementioned above by clicking on their blog name.
Let them know you appreciate their generosity, that would be super.
Please Visit my Sponsor of The Month:
For Spring Sale Special Advertising Rates, Please Use Special25!!!
One Click Is All It Takes!!