Welcome back to Finish The Sentence Friday Blog Hop (FTSF). We give you a sentence and you finish it (however long or short you'd like). Please feel free to link up and follow any or all of our hostesses, which are below.
And now for this week's sentence to finish: "I thought I was so cool when I…"
Next week's sentence to finish: "I am very passionate about…"
I thought I was so cool when I…was a teenager, but then again what teen doesn't feel this way. Totally is right of passage.
Not Me, But What I Remember Colic Looking Like From Emma!!
My mother would tell you that I was a colicky, fussy baby. Then, as a child, she would share that somehow I became a pleasure .
But by the time, I hit 16 years old, I was anything but a pleasure to both my parents. I was a hormonal pain in the ass, who knew everything (or at least I thought so).
I think I have mentioned this before, but my dad was kind of on the old fashioned side and very much of the mind set that what he said went in our house.
Well, at 16 I was definitely too cool for listening to him or thinking he knew anything. So much so that if he said black, I would just say white to piss him off.
And please do not get me started on needing to truly be right and know it all at this tender age.
If my mother ended being right (come on 9 times out of 10 she was, because she has age and wisdom over me), I truly hated to admit it and it would annoy me deep down to no end.
In my thirties though, I have come to expect and even embrace that my mother is usually right. She has lived longer and by default has had more experiences then me.
And yet now, I have come full circle and am the mom who knows nothing, because many days I now truly know absolutely nothing, especially to Emma (my almost 4 year old princess). Everyday she tells me how, she will do it "all by herself" and "I know Momma", followed by "But Why"!! Funny, because I just had this same conversation with a few of the other girl mothers in Emma's pre-school just this past week.
And yes by the way in my youth, I really did think I was just that cool. But I would venture to say I am in for it with my two girls twice over in their own teen years!!
Now tell me, in the comments, about your where you would love to live. Or write a post and link it up! And be sure to share my story with all your FB and Twitter friends. We'll also be featuring some of our favorites on Twitter with the Hashtag #FTSF and our Facebook pages too, so make sure to follow. Don't forget to grab a button and put it somewhere people will see. We'd are hoping to keep this hop going strong and continue this for a long time to come!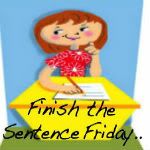 Loading InLinkz …
And now for A bit more oversharing and if you haven't already entered the raffle to win an e-book copy (Kindle or Nook Version) of her new book TMI Mom–Oversharing My Life.
Enter & Follow the Rafflecopter below!
A few entries can be done Daily to increase your chance of winning!
Winning entry drawn will be verified.
Please Visit my Sponsor of The Month:
For Spring Sale Special Advertising Rates, Please Use Special25!!!
One Click Is All It Takes!!