Welcome back to Finish The Sentence Friday Blog Hop (FTSF). We give you a sentence and you finish it (however long or short you'd like). Please feel free to link up and follow any or all of our hostesses, which are below.
And now for this week's sentence to finish: "I am very passionate about…"
And next week's sentence to finish: "If I were stuck on an island, I would like to have…"
I am very passionate about… Well, this answer has definitely changed and evolved for me over the years.
As a small kid, I probably would have answered my parents or even my grandparents. Still do have passionate feelings about these people mind you (even though my grandparents are no longer with us).
As I grew, I might have even answered the latest toy of the month or even the week. (I see this with my kids and their toys).
As a teenager, I would have to say my music. I had quite an extensive collection of CD's (it was the 90s and CDs ruled). I loved listening to music in goods times and in bad. So my music choices varied by moods (still do I suppose). But this is when I began to cultivate my own tastes in music and really got me through those tumultuous years. I also loved writing and always listened to music when I did write. The two always went together hand and hand for me (still does ).
In my twenties, I was very passionate about one person in particular. That was an ex-boyfriend I fell madly in love with. I would say it was my first real adult love. Because I even though I had boyfriends before, I was still a teen and was truly more the puppy love type of love.
Unfortunately, he had his own demons to concur in the form or alcohol and drugs. I took that break up badly admittedly so. I wrote so much during this time about my feelings and experiences.
I serial dated for a few years. Finally, I met Kevin and thank god I did. I finally found love and the right kind of love with him.
Definitely, so happy and passionate about Kevin!!
And since that time (10 years going strong), I am so very passionate about our relationship. In good and bad, sickness and health, richer or poor, we have something so special. Yes, I can't help, but be passionate about us.
And once I got pregnant and had my kids, I truly became very passionate about them and being a mother.
I am also still listening to great music, writing to my heart's content daily and have my family, too.
My point is the feeling of being passionate is ever evolving and probably keep evolving ever so slightly as I get older, but one thing is for sure I will always love and be passionate about Kevin and my girls.
Now tell me, in the comments, about your passion(s). Or write a post and link it up! And be sure to share my story with all your FB and Twitter friends. We'll also be featuring some of our favorites on Twitter with the Hashtag #FTSF and our Facebook pages too, so make sure to follow. Don't forget to grab a button and put it somewhere people will see. We'd are hoping to keep this hop going strong and continue this for a long time to come!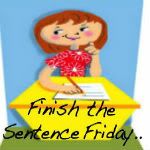 Loading InLinkz …
And don't forget that one lucky reader still has a chance to win their very mobile phone case thanks to Casetagram up to a $39.95 value. Enter & Follow the Rafflecopter below! A few entries can be done Daily to increase your chance of winning! Winning entry drawn will be verified. a Rafflecopter giveaway
Please Visit my Sponsor of The Month:
For Spring Sale Special Advertising Rates, Please Use Special25!!!
One Click Is All It Takes!!