Welcome back to Finish The Sentence Friday Blog Hop (FTSF). We give you a sentence and you finish it (however long or short you'd like). Please feel free to link up and follow any or all of our hostesses, which are below.
And now for this week's sentence to finish: "When I was younger, I wanted to…"
And next week's sentence to finish: "I blog because…"
When I was younger, I wanted to…
Believe it or not, I wanted to be a teacher. I can remember as far back as about 5 or 6 years old, when I would sit will all the books that my mom had gotten for me to read, as well as the school books our neighborhood teacher friend had given to us for me to work on extra school work at home. I would take these books and play for hours entertaining myself.
And if my friends would come over to play with me, somehow we would always lay school and I ended being the teacher usually. You would think that I would have had enough of school going all day long, but when I was younger and just truly loved it and wanted to go even when we didn't have school. Thus, the teacher calling I suppose.
As, I got older and my brother did as well (he is 6 years younger then me), I would force him to play school and be his teacher. Yes, I was probably a bit crazy, but I was the older sister and he very much looked up to me back int he day. Kind of the way, Lily idolizes Emma and always wants to do what Emma is doing.
So, back to teaching, this went on until I was closing in on my teenage years and then of course, I loathed and despised school just like most at this age. And my teachers knew nothing, as did most adults. So, why would I want to be a teacher or spend anymore time in school then I had to?
Well, this phase lasted into my early twenties, when something snapped and back come all those memories of wanting to be a teacher. And, I decided to return to school, where I ended up with a Master's in Education for Math Education.
I taught for about 5 years before getting pregnant with Emma. My first teaching experience was absolutely awful and will just say the district was pretty well off and the students families were affluent. I resigned from that position, because I honestly wasn't happy teaching there. I went on to take a position in another school district, where I taught until I got pregnant with Lily. At that point the economy was heading south and tenured and untenured teachers alike were losing their teaching jobs left and right.
It was at this point that I ended up finding out that I had placenta previa and was put on bed rest. So in hindsight, the lose of my job was for the best at that point. I have now been home with my girls for almost 3 years and as crazy as things are am so happy to have this time with them. The teaching jobs are still pretty scarce here in NY and not sure when that will ever change. But I did get to live my dream even if it was short lived.
What did you want to be when you were younger?
Now tell me, in the comments, about your what you did want to be when you were younger. Or write a post and link it up! And be sure to share my story with all your FB and Twitter friends. We'll also be featuring some of our favorites on Twitter with the Hashtag #FTSF and our Facebook pages too, so make sure to follow. Don't forget to grab a button and put it somewhere people will see. We'd are hoping to keep this hop going strong and continue this for a long time to come!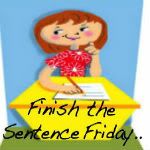 Loading InLinkz …
Don't forget, Dermagist is offering a wonderful giveaway to my readers, too. You, too, can win the very same Ultimate Acne System that I have been reviewing and using, too. The giveaway is open to US and Canada. Enter & Follow the Rafflecopter below! A few entries can be done Daily to increase your chance of winning! Winning entry drawn will be verified. a Rafflecopter giveaway
And please don't forget to check out my web design company for specials running at J9 Designs for all your web design needs, too.

For Spring Sale Special Advertising Rates, Please Use Special25!!!