Welcome back to Finish The Sentence Friday Blog Hop (FTSF). We give you a sentence and you finish it (however long or short you'd like). Please feel free to link up and follow any or all of our hostesses, which are below.
This week, we are also proud to have Kristi from Finding Ninee guest co-hosting with us. Please make sure to follow her and show her all the the love you can today!!
And now for this week's sentence to finish: "I blog because…"
And next week's sentence to finish: "My favorite movie of all time is…"
I blog because…
I have gotten asked this question often enough now and truth be told I have a few reasons why I do blog.
First and foremost, I do blog for me. Being a stay at home mom, I truly needed something that was just mine.
See before I had kids I always worked or went to school or even both. I never was the type that could sit home and do nothing.
When I first had Emma, I went back to work teaching when you was just about 2 months old. It was hard, because she truly was not a good sleeper having colic and all, but still I loved working and teaching.
Most know that I lost that position when I was pregnant with Lily due to the economy and then was put on bedrest pretty quickly after. I then stayed at home after having Lily in November. I hoped that jobs would open up in teaching and be become available for the following year, but as luck would have it that was not the case.
So, I found an online writing site and began to write on it. I remembered from this just how much I loved to write and also how good I was at it. It gave me a sense of self-worth. One thing led to another and started to blog.
I feel in love very quickly with blogging. I also loved sharing my family life with others., as well as, having this time in my girls' life's documented, so they could go back someday and see how it really was in black and white.
But, I must admit as much as I love it. I have my moments too where I despise it for how time consuming it is. I will honestly also admit it doesn't pay as well as a teacher's salary in NYS, so I have learned how to monetize this site to at the very least bring in a few extra dollars to help with bills.
Love Blogging, But Don't Like When It Takes Me Away from These Two Smiling Faces!!
I know I got a bit side-tracked here, but when asked why I blog, it is truly for me. Sounds selfish, but it is my outlet and does give me something that I can call my own.
Don't we all need something to call our own?
Now tell me, in the comments, about why you blog. Or write a post and link it up! And be sure to share my story with all your FB and Twitter friends. We'll also be featuring some of our favorites on Twitter with the Hashtag #FTSF and our Facebook pages too, so make sure to follow. Don't forget to grab a button and put it somewhere people will see. We'd are hoping to keep this hop going strong and continue this for a long time to come!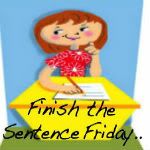 Loading InLinkz …
Also, please don't forget that one lucky reader will win a Free Custom Love Coupon Book from Datevitation, worth $25.50 (5 coupons, plus free shipping). The giveaway is open to US Only. Enter & Follow the Rafflecopter below!
And please don't forget to check out my web design company for specials running at J9 Designs for all your web design needs, too.

Please Visit my Sponsor of The Month:
One Click Is All It Takes!!