Welcome back to Finish The Sentence Friday Blog Hop (FTSF). We give you a sentence and you finish it (however long or short you'd like). Please feel free to link up and follow any or all of our hostesses, which are below.
And now for this week's sentence to finish: "My favorite movie of all time is…"
And next week's sentence to finish: "I hit a turning point in my life when I…"
My favorite movie of all time is…

I have so many and not sure how to list them all here, but will say my most favorite genre of movies is comedy.
Even though, I also am a sucker for chick flicks that can induce a good cry, but in order to want to watch and re-watch a movie, it needs to make laugh.

So I thought I would list the top 5 that seriously induce fits of laughter each and every time I have watched and the re-watched these movies.

1. Animal House–Seriously from the very first scene (of "A Whimp and a Blimp") to the end credits (When at Universal Studios, Ask for Babs!) this one just has it all. John Belushi, Tim Mathison and the awesome ensemble cast really made this movie the classic it is and always be. And the best advice that could ever come from this movie is, "To Start drinking heavily!!" We'll, he was pre-med or at least pre-law. Apparently not a big difference to these funny frat boys!
Animal House–My Favorite Funny Frats Boys!!
2. Weekend At Bernie's–I think Andrew McCarthy summed it up perfectly with, "it is just Bernie!" And let's not forget, "What kind of a host invites you for the weekend and then dies on you!!" There is not a moment in this one that doesn't crack me up each and every time. And still makes me long for summer and vacationing at the beach never seemed funnier to me!
3. Ruthless People–I am telling you if I ever got kidnapped I would want my kidnappers to be Huey and Dewey or Judge Reinholt and Helen Slater, because not only were they hilarious, but pretty easy going kidnappers (they even dropped the ransom price several times). Not to mention being introduced to "the stupidest man on the face of the earth" in the form of Bill Pullman. Hands down best line here, "Give the Money to Bozo!"
4. Fast Times at Ridgemont High–The absolute best part of this movie is Sean Penn's doopy surfer boy character of Jeff Spicolli. And his antics seriously epitomize high seniors being on top of the world including ordering a pizza to snack in his history class. And as the grouchy Mr. hand so eloquently put it, "Get a good on!" And this movie is definitely one of the good ones for sure!
5. Back to the Future–Who doesn't love the wacky Doc Brown and his lovable sidekick Marty McFly? And who wouldn't love having the use of a time machine to change the course of events in one's life? I actually saw this movie for the first time in the movie theatre and was 8 years old, but have seen it so many times I lost count. And it truly never gets old. I can repeat lines from the movie and truly just know it like the back of my own hand, which is not by anyways disappearing any day soon. And trust me, I too figured what the hell with the space time continuum!!
We all have our favorite movies. I have shared a quick glimpse here with mine and now it is your turn to share your with us. Happy Movie Watching!!
Now tell me, in the comments, all about your favorite movies. Or write a post and link it up! And be sure to share my story with all your FB and Twitter friends. We'll also be featuring some of our favorites on Twitter with the Hashtag #FTSF and our Facebook pages too, so make sure to follow. Don't forget to grab a button and put it somewhere people will see. We'd are hoping to keep this hop going strong and continue this for a long time to come!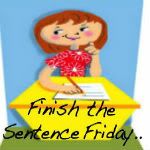 Loading InLinkz …
Also, please don't forget that one lucky reader will win a Free Custom Love Coupon Book from Datevitation, worth $25.50 (5 coupons, plus free shipping). The giveaway is open to US Only. Enter & Follow the Rafflecopter below!
And please don't forget to check out my web design company for specials running at J9 Designs for all your web design needs, too.

Please Visit my Sponsor of The Month:
One Click Is All It Takes!!