Welcome back to Finish The Sentence Friday Blog Hop (FTSF). We give you a sentence and you finish it (however long or short you'd like). Please feel free to link up and follow any or all of our hostesses, which are below.
We are also very happy to have Katia from I Am Milk Co-hosting with us this week. Thank you so much for joining us!!!
And now for this week's sentence to finish: "If I could have dinner with anyone in history it would be with…"
And next week's sentence to finish: "The best fourth of July I had was…"
If I could have dinner with anyone in history it would be with…My Grandparents!
My grandfather has been gone since Valentine's Day 1999 and not a day has gone by in the over 14 years that I haven't thought of him.
My grandmother (his wife) survived him and hung on for 11 more years. I always felt we were so lucky to have those extra years with her.
But eventually, all things do come to an end and she too left us in February 2010.
To say, I felt terrible is an understatement. I grieved all over again for the loss of the woman who was in my eyes my second mother.
See my grandparents growing up were so much more then just my grandparents. They were always there and if my parents weren't available, they were.
My grandmother was truly such a lovely woman. She was generous and kind. She was also so friendly and would talk to anyone she met (I get this one for sure from her!)
Don't get me wrong she wasn't perfect, because yes she could be stubborn. And as my grandfather would always say, "She is not always right, but she is never wrong!"
But she was mine and in my eyes was perfect, I suppose.
And my grandfather to me could also do no wrong. I grew up very much believing he hung the moon and the stars in the sky for me.
See it was through him I knew early on that I did belong. As a kid, I was shy, but had this yearning and longing to be more outgoing.
As I started to come out of my shell, I couldn't help the things that I would come out with. And as a teenager, when I began to curse like drunken sailor (yes I went through a phase), instead of yelling at me, my grandfather let me know that I belonged to our crazy family by telling me, "Shades of Valeria!" And laugh his famous laugh. God how his laugh was contagious and we would both end up in hysterics!
By the way, Valeria was my great-grandmother (his mom), she was well known for not mincing words and telling it like it was, curses and all!
Well, for the above reasons and many more, I wish I could spend one more dinner (preferably eating my grandmother's famous potatoes and sausage meal) with non-stop chatter and laughter, too with both grandparents!
So now that I told who I would love to be able to spend one more dinner with. Who would you spend dinner with if you could??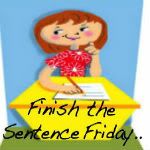 Now Don't Forget–It's a $300 CASH blogiversary giveaway!
Giveaway open worldwide | Winner MUST HAVE a PayPal account | Entries WILL BE verified Winner will have48 hours to respond to winning email or new winner will be chosen
Last, but certainly not least, please don't forget to check out my web design company for specials running at

J9 Designs

for all your web design needs, as well as my blogging advice, too.

Please Visit my Sponsor of The Month:
One Click Is All It Takes!!