Welcome back to Finish The Sentence Friday Blog Hop (FTSF). We give you a sentence and you finish it (however long or short you'd like). Please feel free to link up and follow any or all of our hostesses, which are below.
And now for this week's sentence to finish: "The best and worst parts of blogging are…"
And the next sentence to finish: "My bucket list includes…"
The best and worst parts of blogging are….
I guess with everything does come the good with bad.
And with blogging there is no exception to the rule.
Lets start with the good, because it is always nice to start out on a positive note, I think.
The Good
Definitely must say the absolute best part is the friends I have made. Seriously with the exception of Kera from Nugget on a Budget, I haven't met anyone else that I actually blog alongside of daily, but still these writers have become some of my dearest friends. I feel blessed to call them quite simply friends!
I also learned how to be a bit more organized, because I can face it the Gemini in me is anything, but organized. Drives my husband a bit crazy how I can have a huge pile of papers, but still know where everything is.
Well, it was no different in writing and had my thoughts scattered about. And I am also not one for writing a schedule, but I have been forced to do so and must admit it had made the blogging process a bit less complicated to pre-schedule my posts and have written in my MacBook/iPad notepad when and where I am publishing certain articles.
Next up has to be self worth, which is probably one of the other huge incentives for me with blogging, because I seriously have truly gained an identity from this and really does make me feel like I have a purpose in life then just cleaning up after my kids all day long. As Seinfeld would say, "Not that there is anything wrong with that!" But still it is nice to have something that is all my very own (I now I touched upon this when we posted about why we blog, but still is a huge bonus in my book).
Now for the bad, because with all the good a little of the negative must be involved (thankfully only one real negative, but it is a big one), too.
The Bad
For me, the biggest drawback is the time it does take to blog and share.
I can write an article pretty quick, but all that comes along with this gig takes up more time then one can imagine.
Those who blog, I am confident can relate and know I have had conversations with other bloggers sharing this same sentiment.
Balance is one word that has come to light more times in these so-called conversations and many including myself have still not really found that illusive concept and put it into practice.
This Is How I Feel Many Days!!
I struggle daily and even though I do get a ton done on any given day, I am still struggling with juggling my family, my blog, my design company and so much more.
I leave you with this, if you have found this so-called thing known as balance, can you please share with me. Because as much as I absolutely love blogging for all the positives I shared, I still need help with this one major negative!
Now it is your turn to tell us the best and worst parts of blogging for you!!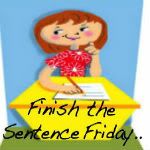 July Sponsor Highlights Giveaway
I am also a part of the July Sponsor Highlight giveaway over at Raising Reagan and please enter our raffle below in the rafflecopter:
Last, but certainly not least, please don't forget to check out my web design company for specials running at

J9 Designs

for all your web design needs, as well as my blogging advice, too.

Please Visit my Sponsor of The Month:
One Click Is All It Takes!!