Welcome back to Finish The Sentence Friday Blog Hop (FTSF). We give you a sentence and you finish it (however long or short you'd like). Please feel free to link up and follow any or all of our hostesses, which are below.
Next week, please stay tuned, we will have a very, special host joining our ranks in the form of Kristi from Finding Ninee. I just love this lady and seriously couldn't be happier or more excited that she is going to indeed join us!
And now for this week's sentence to finish: "My bucket list includes…"
And the next sentence to finish: "I have a bad habit of…"
My bucket list includes…
Well, this has changed over the years.
In my twenties, I wanted to meet Mr. Right!
Well I did!
Then I wanted to get engaged, married and have the perfect wedding day that every little girl dreams of.
Well I did this, too!
Even wanted to go to paradise, otherwise known as the Bahamas for our honeymoon and yes got to do that, too!!
Then, I wanted to get pregnant and have babies.
Check and checkmate!
Now, I am married with children, so what is next on my bucket list?
Well, first and foremost, I want to be able to purchase and decorate our very, first home.
Kevin and I have almost enough saved for a very nice down payment and seriously hoping to be able to do this in the next year.
Nothing would make me happier then for us to give this to our girls.
Well, maybe another trip to paradise or even Disney. And someday would love to see Ireland and even Italy, too.
And maybe just maybe, I could publish my first book and become a household name.
Hey, a girl can dream!
But seriously, I would settle for the white picket fence and happily ever after for now!
Well, how about you?
Your turn, tell us what is on your bucket list!!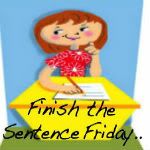 To enter this past week's giveaways that I have been a part of and had running on my page, please click here to enter all the rafflecopters. Thanks and good luck, too!!
Last, but certainly not least, please don't forget to check out my web design company for specials running at

J9 Designs

for all your web design needs.

Please Visit my Sponsor of The Month:
One Click Is All It Takes!!