Welcome back to Finish The Sentence Friday Blog Hop (FTSF). We give you a sentence and you finish it (however long or short you'd like). Write a post and link it up, or if you don't blog, feel free to finish the sentence in the comments for everyone to see.
Your humble hosts:
Janine's Confessions of a Mommyaholic (Twitter, Facebook)
Kate's Can I Get Another Glass of Whine (Twitter, Facebook)
Stephanie's Mommy For Real (Twitter, Facebook)
Dawn from Dawn's Disaster (Twitter, Facebook)
Now for Some Rules:
Please Make Sure to Follow Your Hosts, If You Haven't Already.
Make Sure to Read and Comment on at Least Two of the Posts That Come Before Yours.
Share Your Favorites on Facebook and/or Twitter Using the Hashtag #FTSF.
Now Make Sure to Link Up Your Posts with This Week's Prompt Below.
Enjoy and Have Fun!!
This week's sentence: "When it comes to reality TV shows, I…"
Next week's sentence to finish: "The most-memorable Valentine's Day I ever had was…"
When it comes to reality TV shows, I have prided myself for not getting myself into them much at all. I actually felt when this craze or fad began that it was trying to systematically destroy the one TV genre I do love, which is sitcom TV. Yes, I love anything that will make me laugh and can sit watching old sitcom reruns for that mere fact. Give me Three's Company, Happy Days or any cheesy 80s TV sitcom and I am in heaven! So, I pretty much Loathed and despised reality TV for this reason.
I will admit, I watched one reality show with The Real World, when they were in San Francisco, mainly because of a guy named Puck, who was too horrendous not to watch. He was a train wreck just waiting to happen, but after that season, I swore off reality TV until I was 23 weeks pregnant with Lily and on bedrest.
What happened to make me watch reality TV at that point? Well, I was home to view TV all day and night, because of being on bedrest. I love reading, but after awhile I could all do so much of that too. So about 3 or 4 days into being on bedrest, I put the TV on during the afternoon hours.
Big mistake, because they were re-running a show on Bravo called The Real Housewives of DC. I left it on for a few minutes. As crazy and as bad, trashy TV as it was, I was hooked. I remember thinking that one show wouldn't kill me.
Wrong again, because once that ended, I flipped the channel and found MTV's Teen Mom, where crazed Amber and company were wreaking their own late teen kind of antics along with having babies (thus the title). Seriously, if Puck was train wreck these girls were that and then some, but again I got sucked right in (because I too was pregnant and there was these cute babies with crazed mommas!).
When that was over, I didn't even have to switch channels to find a re-run of America's most hated guidos run amok on "The Jersey Shore". I left it for a minute and found myself listening to the likes of Snooki and "The Situation" talk trash, as well as the on again/off again Ronnie and Sammi Sweetheart going at it for 1,234,567,890 time. It was better than WWE Smackdown and you guessed it, this pregnant hormonal bed ridden soul was sold.
God help me, but I found myself DVRing and watching these shows, plus a few others too. For a month of bedrest, I watched absolute garbage and trash. Believe it or not, they made bedrest that much more tolerable, but I think I may have lost a few brains cells along the way, because I actually found myself laughing at these Italian meatheads (I am Italian and sorry to say they are meatheads–even if they weren't Italian they would be meatheads!).
By the end of my one month's bedrest, I felt as though, I would need rehab from this or at least an intervention. But I will say this, after my bedrest was indeed over, I watched a few of these shows here and there, but lo and behold I must be a bit stronger than I originally thought, because I got over my addiction pretty quickly. However, the only problem is that I have now have two little girls, who hog our TVs and make me watch Mickey's Christmas (a month later and we are still watching this one, thanks Lily!) and Disney Princesses (because Cinderella is lonely if we don't watch her yet again). When all this momma wants is to laugh a bit and watch good old fashioned sitcoms! Anyone??
Now tell me, in the comments, about your when you were younger (you're in good company). Or write a post and link it up! And be sure to share my story with all your FB and Twitter friends. We'll also be featuring some of our favorites on Twitter with the Hashtag #FTSF and our Facebook pages too, so make sure to follow. Don't forget to grab a button and put it somewhere people will see. We'd are hoping to keep this hop going strong and continue this for a long time to come!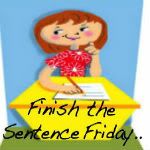 Loading InLinkz …
More shameless begging for the Circle of Mom's Contest, which runs through February 13th. Please click the button below or the one on my sidebar to vote for me their as well.
Don't Forget to Vote. Your Vote Counts and Is Appreciated!!

Please Visit my Sponsor of The Month:
[amazon_mp3_clips widget_type="Bestsellers" width="250″ height="250″ title="" market_place="US" shuffle_tracks="True" max_results="" browse_node="" /]
[wp_ad_camp_2]