Welcome back to Finish The Sentence Friday Blog Hop (FTSF). We give you a sentence and you finish it (however long or short you'd like).
"I get so frustrated when…"
Next week's sentence to finish: "Speaking from experience, I'm going to give you a little advice on…"

I get so frustrated when when people can't admit they are wrong or say they are sorry, especially Kevin. I write a lot on my blog about how many wonderful qualities my husband has, but he also has one bad habit, which is that he has trouble saying he is sorry and never really wants to admit when he makes a mistake or is wrong.
Now, I know what you are probably saying that most people don't want to be wrong and that I, too, probably have my fair share of bad habits. Guess what? I am pretty sure you would be correct on both accounts, but still bare with me.
At this point in my life I have met a lot of different types of people and some that even wanted to be right when they were wrong. The first person that I ever had the privilege of knowing and loving who was like this was my own grandmother. And my grandfather (her husband) had a saying about about her (yes he was quite the sarcastic teaser, thus where I get this from). This saying went as follows: "She might not always be right, but she is never wrong!"
Seriously, he has been long gone for over 14 years this month and I can still hear him clear as day saying this and even cracking himself up a bit when uttering this sentence about her. See my grandparents were married for over 50 years, loved each other dearly, but could fight and still laugh about their fights after all that time. So, I did truly admire their relationship.
That said, my husband and I are, I think, a bit similar to them in the fact that we can argue with the best of them and still laugh about it when it is all said and done. I know I have written about that point in particular more than a few times now, but the thing that gets my feather ruffled just a bit with him is usually the fact that when we do argue he has a way of deflecting his fault and making it like he didn't do anything wrong. God if I had a penny for every time he said he was sorry, I would still be quite poor!! Now, please also don't think I delude myself in thinking I am always right, but seriously after seven years of marriage I also not always wrong either!
I, on the other hand, have been known to say that I am sorry more times than I probably should, because as a small child, when my stubborn streak kicked in and I didn't want to say this, my mother pretty much pounded this one into my thick head. So I learned this lesson and quite well that at 35 years old, I say I am sorry pretty quickly, because it is now just such a part of me.
Not sure really which is worse, not being able to say I am sorry or saying it too much in reality, but for me it would be not saying it. This one drives me quite mad. That said, I love Kevin just as he loves me for the good and the bad. So, I will leave it that as as much as it frustrates me, I still can't help, but love him even when I would like to strangle his non-sorry self!! Enough said, now onto this week's blog hop!!
Now tell me, in the comments, about times when you were indeed frustrated (you're in good company as you can see from above). Or write a post and link it up! And be sure to share my story with all your FB and Twitter friends. We'll also be featuring some of our favorites on Twitter with the Hashtag #FTSF and our Facebook pages too, so make sure to follow. Don't forget to grab a button and put it somewhere people will see. We'd are hoping to keep this hop going strong and continue this for a long time to come!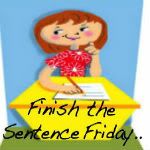 Loading InLinkz …
Don't Forget to Vote. Your Vote Counts and Is Appreciated!!

Please Visit my Sponsor of The Month: