Before we go any further, I had teased at the beginning of the week that I would be in a published book by the end of the week and that is just what happened. Our book (a total of 30 bloggers) has been published and available to purchase on Amazon. Please click below to buy and read our book that we are so very proud to bring to you now!
[amazon_link id="B00FKZLGM6″ target="_blank" container="" container_class="" ]The Mother of All Meltdowns[/amazon_link]
Now, welcome back to Finish The Sentence Friday Blog Hop (FTSF). We give you a sentence and you finish it (however long or short you'd like). Please feel free to link up and follow any or all of our hostesses, which are below.
And now for this week's sentence to finish: "The hardest choice I ever made was…"
And the next sentence to finish: "Once, in public, I saw somebody…"
Also today is Day #4 of the October Daily~Share your experience during your first few weeks/months in blogging.
The hardest choice I ever had to make was…
To not go back to teaching after I lost my position due to the economy and cuts.
One of my favorite poems of all times is "The Road Less Traveled," by Robert Frost and many times I think this is just want I did.
See, I could have chosen after having Lily to become a substitute teacher. See there were truly no real full-time positions available and subbing would just have only paid for daycare for two kids.
So, I chose the path less taken and began to write again after so many years. And as most know from last week, I started this little blog a year ago having celebrated my one year blogiversary on last Friday
I always loved to write, but I was truly scared to put myself out there and share. I am an extrovert by nature, but sharing my deepest feelings, thoughts, as well as our daily life for all to read and witness on the internet was quite overwhelming to me.
But see the other part of me, was truly excited to try my hand at this. I had no idea all that awaited me though. Seriously, I was clueless to all that blogging can encompass, as well as all the doors it could open.
Those first few weeks and months, I really just wrote my heart out and shared so much of myself and my family, too. I look back at those early blog posts and see it was a way for me to connect with others who were out there possibly going through the same as myself and hoping to find a same place to call my own.
When you are a stay at home mom, you are really just there to serve your kids needs, as well as be a maid, a butler, cleaning service and so much more. I longed for so much more though. As much as I loved sharing about myself and my family, I wanted to have a purpose other then cleaning up after my family all day long.
Enter my blog, I found out very quickly that you could not only share yourself, but make a career out of it. But how could I do this. I will tell you I didn't figure this one out immediately. I was just asked about the best ways to make money with blogging and promise there is a guest post coming on this from me coming soon. But the first few weeks were anything, but how to make money.
However, I did learn early on to treat blogging like it was a job if I wanted to make this a place not only to share, but make some income off of it, as well.
In those early days though, it was the relationships I made and the comments I would get that truly made me love blogging (plain and simple). I looked forward to (hell I still do) getting comments from those that were regulars and that I followed, too.
Comments were my life line. I admit that is probably why I still am a huge commenter on my own blog to respond to those who do comment, as well as read as many blogs and comment on as many as I can daily.
This is something that I did from the beginning and still do. Granted the numbers have grown from a year ago on both ends, but still am a huge blog reader/commenter.
So for me leaving behind all that I knew in the teaching world and venturing outside my comfort zone to become a full-time blogger/writer was probably the hardest thing I ever did and those first few weeks were truly a bit of a blur to me. I have re-read posts to try to share more here, but it really is just such water under the bridge.
In the end, I did choose the path less traveled and it truly has made all the difference for me.
Now, please share with me what was the hardest thing you ever did and you can also share in the comments your memories if you are a blogger from those first few weeks of blogging for you, too!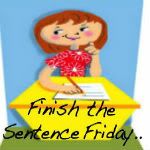 My One Year Blogiversary $400 Paypal Cash Giveaway~ Please make sure to follow all entries, they will be verified!
Daily Affiliate Offers (Always Check My Sidebar for More, Too!)~
More than just labels for kids, Mabel's Labels is now making it easier than ever for the elderly in your life to keep track of their belongings. New Senior Labels are customizable nursing home labels that are perfect for your loved ones clothes, shoes, slippers, eyeglasses and more. Super durable and easy to apply, just peel and stick to keep everything coming back to your loved ones' room. The Seniors Combo comes in a pack of 40 labels for just $16.99 and is available in a classic and simple style. For more details on these labels, visit:http://www.mabelslabels.com/products/Seniors+Combo.
Plus, now through 11/30, when you spend $100+ with Mabel's Labels you will receive an offer for a free subscription to Today's Parent. Happy Labeling!

Build A Bear~ Just in Time for Halloween!
Online Exclusive! Limited Quantities! Pumpkin Pal Teddy and Pirate Bear! (Valid Web only. While supplies last.)
Blogging Design Needs~
Don't forget to check out my web design company for specials running at
J9 Designs
for all your web design needs, plus we are now offering
Paypal's Bill Me Later
, too!
Please Visit my Sponsor of The Month:
One Click Is All It Takes!!