Welcome back to Finish The Sentence Friday Blog Hop (FTSF). We give you a sentence and you finish it (however long or short you'd like). Please feel free to link up and follow any or all of our hostesses, which are below.
And now for this week's sentence to finish: "I used to love..."
And the next sentence to finish: "I wasn't really myself when I…"
I used to love….
Sleep!!
Through my formative years, I loved sleep. If I could have made a living from sleeping, I would have.
Sadly though all good things must come to an end and with two little kids 16 months apart, I stopped sleeping right actually during my first pregnancy.
I remember being told back when I was pregnant with Emma to enjoy sleep while I could.
Seriously who could enjoy sleep so pregnant, huge belly and having to get up to pee all the time.
The dynamics are just not for allowing to sleep or enjoy it for that matter.
Then, I had Emma and from the first night she had her days and nights screwed up.
Oh and she had colic, too.
So every night at around 11pm like clockwork she screamed into the wee hours of the night.
Conan and I became very good friends from this. And my couch was where we would finally settle. But sleep was not to happen those nights until very late and then she would be up again by 7 or 8 at the latest. To say, I was exhausted and fried was the understatement of the year!
And when this died down, teething reared its ugly head.
And then came Lily. Even though she was a very good baby in comparison. I still had one night feeding for the first few months, plus Emma who was still teething would be up some nights. Thank god for Kevin, who did help, but still sleep was a rare commodity
So you guess it more broken sleep and sleepless nights were endured. And this lasted off and on for about 3 years in total. This vicious cycle of someone always seeming to wake me.
However now that I can sleep, it is liking retraining my body.
Seriously, I still wake at least one time a night, because my body just got used to it, I suppose.
So miss sleeping late and not having a care in the world. Oh and hot dinners, but that is a story for another time.
So how about you, what did you used to love??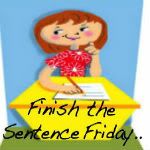 Please also check out this week's giveaways here.
Also, take a look at J9 Designs for a fabulous customized service that I am offering for social media buttons, please check it out here.

Please Visit my Sponsor of The Month:
One Click Is All It Takes!!