Good news is sure to put a smile on one's face. And about a month ago, I got the best of news in the form of an e-mail informing me that Tuesday, May 7th, would be my SITS Day, which did indeed make me smile from ear to ear!!
Well, that is today! What is SITS? For those who, don't know SITS is a website that is a wonderful community of blogging women that was created and found back in 2008, by five women (Tiffany Romero, Francesca Banducci, Ashley Abele, Shell Roush, and and Kathy Bouska), who according to them simply wanted to create a space where bloggers could find their tribe and grow their audience. Although the site has evolved over the years, its commitment to this mission has not changed.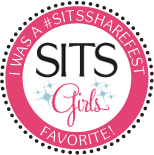 Today, the site is home to over 40,000 members and I am proud to be one of these members. I also love how I have met and gotten to know so many wonderful and new bloggers from this online affiliation, because I try my best to visit and get to know each day's new SITS Blogger of the Day, as well as participate in their forums, as I can.
For those, who are knew to my blog today, thank you so very much for stopping by and hope you will stick around for a bit to get to know me.
Get to Know My Gang!!
A few of my favorite posts that I would love for you to check out are as follows:
Please do feel free to follow me on all my social networks, if you would like below:
And for my returning readers, thank you as always for all your support and kindness, as always!!
And please don't forget to check out my web design company for specials running at J9 Designs for all your web design needs, too.
Please Visit my Sponsor of The Month:
For Spring Sale Special Advertising Rates, Please Use Special25!!!
One Click Is All It Takes!!