*This shop has been compensated by Collective Bias, Inc. and its advertiser. All opinions are mine alone. #ProtectFromPetMess #SeasonalSolutions #CollectiveBias
We absolutely adore our dog, Elsa. But there is one habit of hers that we truly are not a fan of. See Elsa is a golden retriever dog. So, she is a people loving dog. She also gets over excited when new people visit our home. This means she barks to let those new visitors know she is there. This same dog, that is relatively pretty calm most of the times, gets worked up whenever we have guests at our home.
Don't get me wrong, on most given days this isn't an issue. Why? Because on a normal day, we don't have that many new people in and out of our home.
But on a day like Halloween, all this goes out the window. But why? Because Halloween, Trick-or-Treaters are at our door off and on for hours on end.
Thus, our poor dog is on a never ending roller coaster ride of dealing with these littlest dressed up trying to get a treat. So, this isn't a day where our pooch could keep calm. See this is a dog where it is extremely hard to keep dogs calm.
But there are ways to that you can keep dogs calm on Halloween.
How though?
Read on now…
5 Ways to Keep Your Dog Calm This Halloween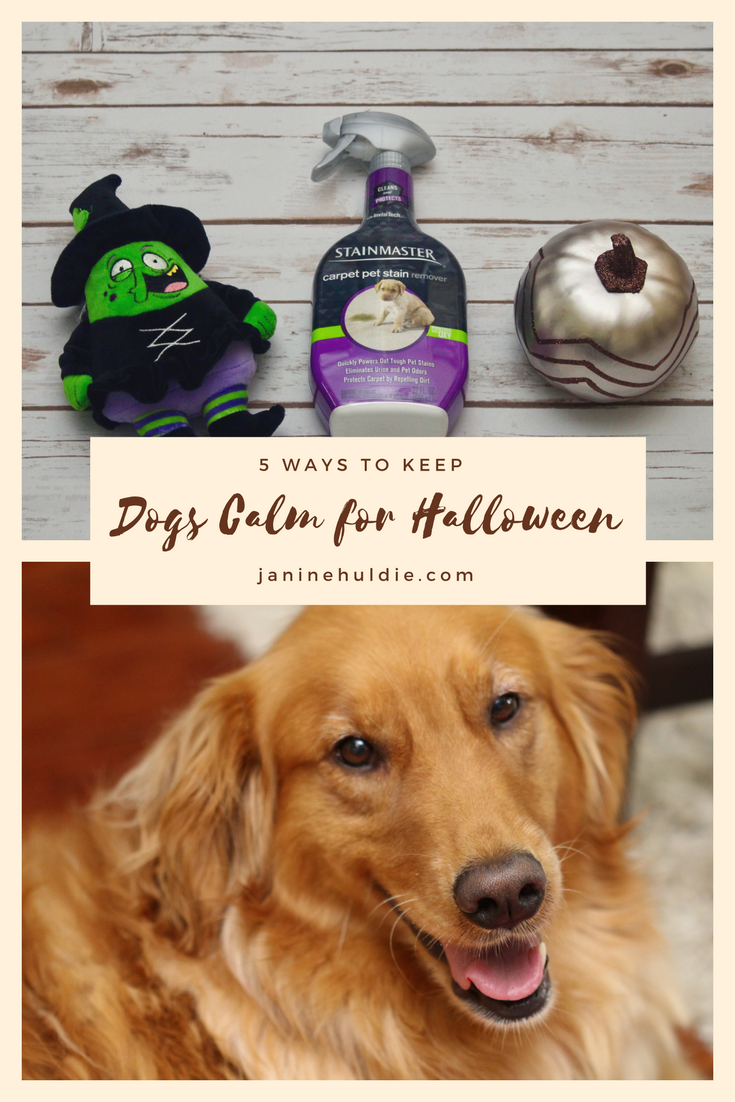 1. Cut the trick-or-treaters off at the pass.
How by sitting outside to hand out candy or treats. This way you can help your dog from hearing the bell ring or the door be knocked on.
[clickToTweet tweet="#ad Wait outside for trick-or-treaters + 4 more dog tips #ProtectFromPetMess #SeasonalSolutions" quote="#ad Wait outside for trick-or-treaters + 4 more dog tips #ProtectFromPetMess #SeasonalSolutions" theme="style1″]
2. Keep noise up for a distraction.
You can keep music on or the TV to help to block out the outside noise of trick-or-treaters from disturbing your dog.
3. New treats are always welcome.
Give your dog a new chew or squeaky toy to keep them occupied and calm.
4. But keep the candy out of reach.
See if your dog happens to get into the candy bowl this could upset their stomach and/or make them sick.
5. Pet cleaners for the win.
However, if you dog does get into the candy or has any sort of accident due unsettled nerves, having STAINMASTER® Carpet Pet Stain Remover on hand is always a plus. Thankfully, STAINMASTER® Carpet Pet Stain Remover is available at Target in the Cleaning Aisle.
What is STAINMASTER?
It is a carpet stain remover that lifts away tough pet stains and eliminates odors. But unlike other stain removers it doesn't leave a sticky residue then also that can attract dirt over time. See it actually quickly cleans on contact. Plus, it repels dirt to protect against re-soiling to keep your carpet looking newer longer. So by doing so it Protects Against Future Stains. And it even starts to eliminate odors within minutes.
What kinds of dog/pet stains does STAINMASTER remove?
STAINMASTER is great for pet stains like urine, vomit, and feces. Plus it even works on everyday stains like coffee, grape juice, jelly, chocolate syrup, ketchup, dirty motor oil, and soil.
But how do you use STAINMASTER?
SPRAY: Spray product liberally and directly on affected areas.
WAIT: Wait 3-5 minutes to allow solution to penetrate the stain.
BLOT: Dampen the spot with water and blot with a clean, colorfast paper towel or cloth. Repeat as necessary to remove the stain. For best results treat stain immediately.
So now that you are armed with some surefire tips to keep dogs calm this halloween, go forth have a fun Halloween with your family.
Do you have any other ways to keep dogs calm on Halloween?
Now share with me in the comments…