Clawing, hissing and even ready for the attack – Mean Girls!
Over the years being a girl and now a woman, I have learned that females quite often can be down right catty.
My grandfather used to say, "This cat's got claws!" for mean girls.
And Matchbox Twenty singer, Rob Thomas had it right with his "She's So Mean" song all about "Mean Girls"…
"I kn-kn-know a girl, she gets what she wants all the time
'Cause she's fine
But for an angel, she's a hot hot mess
Make you so blind
But you don't mind…

Every now and then, she makes you just a little bit crazy
She'll turn a knife into your back and then she's calling you baby, crazy" – Rob Thomas
I don't want to over generalize though to say all women, even the very young like my own daughter (Emma), who just turned five have the capacity to be mean girls (click here for me) and will say that this is not common of all women, but yet a few select few will indeed lower themselves to this type of behavior when dealing with other women or even men, too who they perceive to be threats or are jealous over.
Hell, I have been on the receiving end myself as far back as my teenage years with mean girls.
Mean Girls – A Not So Fun High School Walk Down Memory Lane –
I will never forget an ex-girlfriend (a mean girl in training) allowing herself to be jealous and try to steal my then high school boyfriend from me. She wanted him so badly that she reduced herself to cornering me in our high school hallway to tell me to watch my step (that's right it was my boyfriend she was after here) and that if I didn't dump him for her to have her shot out, she would physically beat me up.
She wasn't any bigger in height or stature then me, nor was she stronger as far as muscles went, but still she thought her physical threat of hair pulling, scratching, clawing and more would put enough fear into me to dump this guy to indeed give her the in road for her to make him hers.
She never did beat me up and began using more mental tactics to try to wear me down when her physical threats didn't work. I didn't cave then, somehow I moved on and rose above it. I even continued to date this guy and eventually she gave up her physical and mental threats when she realized I couldn't care less.
This mean girl incident occurred over twenty years ago and I still can see her enraged face in the heat of the moment and smell the toxic fumes that hung in the air that day from this mean girl moment in time for me. Probably why, I became more friendly with guys then women over the years and more discriminatory of the female friendships, I cultivated as time and years went by (Harry was completely wrong on this in when Harry met Sally, because men and women can be friends).
However, fast forward to the present with the women and male blogging world, which has been so very kind to me (thankful for all that have indeed embraced and become trusted friends) and yet has also found me dealing with my own mean girl drama again as an adult blogging woman and also seen others that I have become close confidential friends with (both female and male bloggers) dealing with their own mean girl counterparts, too.
*I will not out anyone in this article, so if you are looking for more drama with name calling, then don't read any further, because that is not in my nature or what this article today is about.
If you know me and think you know me, then you should know I am not this type of person I am, nor will you ever find me using my blog or personal image that I worked so hard to build to lower myself to doing this he said/she said game.*
Yet, I sit here contemplating what constitutes and allows other grown adult women to indeed become the mean girl (woman) bullies. That is why this article was truly born. I have had some serious conversations in the past week with more then a few of my blogger friends and also IRL friends to try to understand this.
Hell, my husband (Kevin) has been quoted time and again as saying, he doesn't have time for the drama (and yet he is a dad to two overly dramatic little girls – hey just saying).
But I digress, having seen real, honest and genuinely good people to the core get hurt from this mean girl mentality and because of it my heart has hurt and ached for them. I want to try to make them feel better and heal their hurt, as well as my own battle scares.
The one underlying notion, I can and have come up with is JEALOUSY! – At the root of all evil is jealousy!
See men when they perceive a jealous threat will possibly punch the other guy and be over it (again much less drama and more then anticlimactic).
Women, on the other hand, may threaten physical violence, but then afterwards will do more damage by using more mental mind fuckery (sorry for the language, but the best word I could use to describe it) – in plain English women use mind games and mental drama to attack their victims.
Sad, but true that when a woman feels a threat or is jealous will create all sorts of drama by using mental warfare to attack their prey – mean girl style!
Gossiping, name calling, and other under handed tactics can get used here.
But one of the worst tactics I have heard of involves having another women befriend the first woman they are trying to bring down and making like this other woman is indeed a friend making them believe they have a confidant before lowering the so-called boom! (This is similar to the scene from Goodfellas, where Robert Deniro tells Ray Liotta about how when you are going to get hit your enemies come to you as friends and you never truly see it coming).
It is also a known fact that many times two girls can play nicely on a playground and then add the third and all hell will break loose. Same concept when trying to get a third woman involved to bring down the original as adults.
Mean girls can strike at any age.
Mean Girls are so covert and underhanded.
I am honest person, who has trouble lying. So I am not a mean girl at heart and don't get it.
Yet, I grew up in NYC and do have street smarts. I have been told over and over that I am good at reading people for years now. Yet even I folks, have been fooled in the past and probably will again. Some people are that good at being deceptive at their true nature.
Knowing that this still does exist even once a girl grows into a woman, then how can it be dealt with by those who are the prey of these so-called mean girls?
I would call on my own mother for the best and truest advice on anything, including mean girls and asked her recently.
See my mother would say, "By being the bigger person, ignoring and rising above it!"
But how do you ignore, such an inflammatory attack to one's self esteem and person to indeed rise above it in the end?
Again, my mother would tell me in order to do this you must surround yourself with only those you would trust with your life and have your back irregardless.
But do these people or concept exist?
Yes, they do!
I have found more then a few amazingly, inherently good men and women alike that are trust worthy and have had my back time and again in recent times despite the mean girls that do exist.
I, for one, feel blessed for that and hope those who I speak of feel blessed and bit better off for knowing and calling me a friend, too.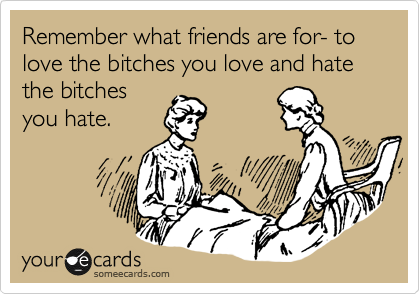 So, there is hope to put an end to the mean girls of in life (as a mom of two young girls I want to have hope for them on this) and blogging (too) and take control of your life once again. And if all else fails swear off women as friends (joking of course)!
And if for all those who are not believing how crazy and yet wonderful life can be when you do have good friends in your corner, check out my podcast (if you haven't already) over at Lose the Cape here, where my very good blogging my friend, Alexa interviewed me for her series, There's Just Not Enough Time in the Day, where you can not only here my answers to her awesome questions, but also prove that my day is full of craziness with all the family interruptions that came up during this interview.
Last, but not least I am feeling quite honored and humbled tonight that I received notification, that I was nominated for one of the top 50 Stay-At-Home Mom Blogs at Voice Boks. I was nominated either by another blogger or a staff member. Not sure which, but huge thank you to whoever did and not begging, but if you could spare a vote for me, please click the badge below DAILY (yes you can vote more then once each day!):