*This shop has been compensated by Collective Bias, Inc. and its advertiser. Product was provided by the client for review; however, all opinions are mine alone. #WorldsSmartestToothbrush #CollectiveBias
Well, it is that time of the year again. The holidays and gift giving is just about upon us.
Most in my life are pretty easy to shop for. I mean my kids make their lists for Santa.
So, off I go to shop for them from these lists. Other family members, I do my best knowing likes, sizes and more.
But there is one person who I always struggle with shopping for during the holidays.
It doesn't matter that this person is my supposed better half. It also doesn't escape me that this same person makes a list just as the kids do. Nor does it matter that he tells me for months in advance, too.
No matter what is on his list, I still enjoy surprising him. But he isn't an easy person to surprise. Why? Because he is a tech savvy person, who owns most if not all the latest tech gadgets as they come out. I mean he loves the newest video games, the latest mobile devices and so much more.
But the one tech item this person, doesn't care to update is his toothbrush. He would totally go on the cheap for a toothbrush by using a plain old toothbrush.
But I happen to know this same person is not only in need of a new toothbrush right now. But he also most likely wouldn't mind be gifted a state of the art tech savvy electric toothbrush that also uses app technology to help achieve better gums, as well as cleaner and whiter teeth in the process.
Why? Because the boy loves his tech gadgets!
So for this Christmas and holiday season on a recent shopping trip to Kohl's, I found the perfect tech gifting option for my tech savvy husband. See this is no ordinary toothbrush. This is the tech savvy person's toothbrush dream come true! Why? Because it turns a gift my husband wouldn't expect into something he absolutely loves!!
What did I get him? (Shh!! It is a secret and surprise.) But I will share with you my favorite readers today.
I bought him a brand new Philips Sonicare DiamondClean Smart Electric Toothbrush.
What is so tech savvy special about the Sonicare DiamondClean toothbrush?
Well, it is Philips Sonicare's best ever electric toothbrush for complete oral care. Plus, it's bluetooth enabled and even connects to the Sonicare App!
But why it is so tech savvy special?
Because anyone that uses the Philips Sonicare DiamondClean Toothbrush can not only care for their whole mouth, teeth, gums and tongue.
But how? See ONLY the new DiamondClean Smart has four high-performance brush heads. Plus, it also has Smart Sensor technology for personalized feedback and coaching. This feedback and coaching comes in the form of an mobile app that you can download to use with the Philips Sonicare DiamondClean Smart Electric Toothbrush.
Therefore, Sonicare DiamondClean toothbrush gives you superior results, as well as 100% confidence in your oral care each and every time.
So, blue tooth, apps and so much more!!
Therefore, Sonicare toothbrush is the perfect tech man's gift for the best holiday basket for the tech savvy.
Take a look at the fun gift tech man's holiday gift basket (and click on it to get started on your own tech man's gift basket), my girls and I put together for our tech guy below now…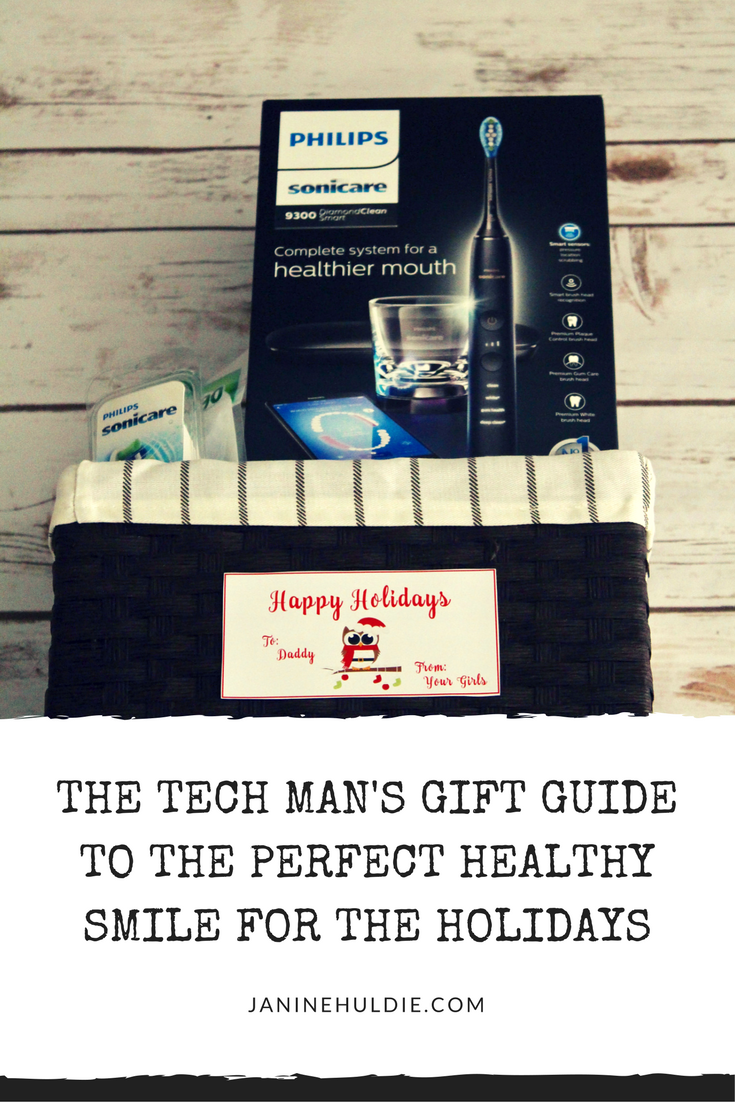 I even created a fun DIY printable holiday gift label for our tech savvy guy.
[clickToTweet tweet="Get a FREE gift tag printable for your Tech Man's gift with #WorldsSmartestToothbrush #ad" quote="Get a FREE gift tag printable for your Tech Man's gift with #WorldsSmartestToothbrush #ad" theme="style1″]
And I am including a FREE printable copy of our holiday gift label for your own holiday gifting needs now.

So excited to gift our own tech savvy guy soon! Hope you check out the Philips Sonicare Diamond Smart Electric Toothbrush for your own tech savvy guy, too. And again enjoy our FREE printable gift label, as well.
What's on your own holiday shopping list?
Now, tell me in the comments…