A Puppy!
I may or may not have begged and simultaneously wished for one each year at Christmas time as a kid after our beloved family dog, Taffy (an Australian Terrier) had to be put to sleep.
I mean years of hoping and praying. And years of my mom being adamantly against this. My dad would have gotten us another dog in a heartbeat, but my mom was dead set against it.
Why you may ask was my mom so vehemently against getting another puppy?
Well, if you are a mom to two kids and the one doing most of the hard work in the home all day long and then having to add a puppy to the mix, then you probably know where I am going with this.
But still, after becoming a mom myself nothing prepared me for getting our own puppy even having kids beforehand (yes there are tons of similarities between the two, but I still wasn't fully prepared).
I knew from all I heard from my mom over the years, as well as other dog owners that puppies are a lot of work, and indeed almost like having another baby minus the delivery and labor for yours truly!
I also knew my husband had dogs for most of his child and adult years that he lived at home with his parents.
When we first got married, we lived in an apartment that didn't allow for pets. Then, we moved in with my parents sharing their mother-daughter home and my mom as I said earlier was against it for the most part.
Then, we had our kids (yes I may or may not dreamed about being a mother and wanting kids too for years, not really knowing what I would be getting myself into) and all through this time my husband would mention getting a puppy every so often.
This past year he pushed and finally got me to cave. Plus he had the kids on his side with talking up a puppy on overdrive for months.
Finally we got Elsa, as most know here and yes I love her, but not going to lie she is a lot of hard work and have found myself tired and frustrated more then not lately.
She is ours though and I am in it for the long haul, however, I had to share a few things that I have found out now being a puppy owner, (most of me just being snarky and sarcastic – my humor at its very best) but still couldn't resist writing a bit of a tongue and check guide to what I have found owning a puppy really is like and how it compares to having babies, too.
Sit back and enjoy the ride of being a puppy owner, because trust me it is definitely a bit bumpy just as it is to be a first time parent, as well.
6 Ways Babies & Puppies Are Similar
1. No Sleep 'til Brooklyn –
As the classic Beastie Boys song says it, "No sleep tip Brooklyn" sums up what having a baby and/or a puppy is like (truly years back I never would have thought this while listening to this now still favorite classic of mine, but still).
[Tweet "No sleep 'til Brooklyn with puppies and babies"]
Early on, we had our first, who had colic and never slept now I have a puppy, who yes does admittedly sleep better then our colicky baby did those first few months (that isn't saying much, because she didn't sleep at all at night), but still early morning wake up calls (for my husband, yes I admit I don't do late nights or early mornings as I did enough of this with the girls), but still I get to wake up hearing Elsa bark and cry when she needs to go out and I truly never completely fall back to sleep after that.
So, definitely getting less sleep around here for sure these days.
2. Potty Training Bites!
I loathed and despised potty training for both my girls. Our second was definitely easier (in case you forgot click here) then our first with the potty training merry go round. But still was so happy when both girls were potty trained. Now, I have a puppy to potty train.
[Tweet "Potty training bites with puppies and babies!"]
While it being my third time to train another living being, still not a fan. And with a puppy, there are no pull-ups to help me here. If I miss the window there is a mess all over my kitchen floor. She is being crated and we have baby gates to keep her in the kitchen when she isn't crated, because at the very least the kitchen is tile not carpet. But still, no one quite prepared me for how smelly puppy poop is. The pee isn't as bad, but just a nice lake of urine when it has happened.
Thank god Nature's Miracle Spot and Odor Remover, but damn when that smell gets up my nostrils it is there for a good half hour before I start to return to normal.
And let's not get started on the training wee-wee pads, pooper scooper and so much more here.
However, this brings me to number three.
3. Puppy Supplies Are Expensive
Just as when we first had the girls and we spent money on all sorts of things, including diapers, formula and anything that was promised to make life easier with a baby, we have done similar with a puppy.
Our checkbook has been bleeding and even last weekend when I thought I was free from buying her something for a weekend, I found out Kevin had poison ivy and it could be on the dog's coat. Off to Petco, she went to get groomed just in case.
Plus depending on what type of dog you choose, the price tag to buy said dog over adopting can be costly. For example, take a look at how much pomeranian puppies cost. That's just the price tag of the puppy itself and again doesn't take into account the cost of the items needed for the puppy after the puppy purchase.
[Tweet "Puppies and babies are expensive, too."]
If you think I am not joking though, I am very much not, we even paid for puppy training classes to help her with nipping from the dreaded puppy teething. Which leads me to number four.
4. Teething Bites, Too!
With babies, teething brings on a whole new level of joy and misery, too. We finally had come out of the colic hell with our first and guess what, she began to teeth.
More sleepless night and crankiness galore and that was just the baby! But in all honesty, we took possessions of Elsa on a Sunday brought her for a follow up checkup (more on doctor's visits in a moment) the next day to be told, she would be at 9 weeks starting to teeth any minute.
The very next day (Tuesday my birthday), I found her gnawing on our kitchen chair. Teething had begun in a blink of an eye. And even though, she isn't cranky like a baby would be, she is a royal PITA (my husband's nickname for pain in the ass!) with nipping anyone who she is playing with in the moment (whining galore form both girls when she does this constantly) and trying to chew on anything that she shouldn't be. Yet, I get the Einstein from Back to the Future look from her even when she is up to no good.
Thank god for doggie toys, but again think number three and my checkbook again wants to cry!
5. Constant Doctor's (Vet) Appointments
I was under the impression if you got a puppy who was up to date on shots, you should be good for at least a few months. Not so as a puppy gets shots like every two weeks and male or female they need to be spayed (if you don't want to repeat the puppy cycle or even worse deal with a female puppy going into heat and getting her period).
[Tweet "You live at the doctor's office for puppy and baby."]
The period aspect, I have enough of that on my own and furthermore, as much as I love the show Sex in the City, recently saw a repeat with Charlotte's puppy getting her period for the first time and as funny as Mario Cantone was I am not going through that with our dog – no way no how. So, Elsa will be getting spayed and of course that costs more because as a female, she has to be cut open to do this (yup even being a dog and a woman comes with all sorts of fun things – not!).
But the point, the dog like kids is at the doctor this first year more times than I can count. Seriously just substitute the term vet for pediatrician and I am reliving the newborn/infant year all over again with a puppy.
6. Puppies Equal No Sex!
Sorry for the graphic and bluntness of this here, but still it is just the truth. And just as when we first had both of our girls, neither of us had the time nor the energy to think about that short three letter word – SEX – so too now with a dog. I can count on one hand after having our first how many times we did do the deed and one of those times resulted in our second baby.
[Tweet "No more sex with puppies and babies!"]
That's right when my doctor asked me when she was conceived when I first found out I was pregnant with her, I knew the actual date and almost down to the hour of the day. Sad, but true. We finally had a free moment from colic and teething crying, got it on and now that baby is on her way to being 4 years old!
However, when we do finally get a free, sane, quiet moment now, I should not get pregnant thank the good lord (sorry, but my uterus just even let out a sigh of relief), because I did indeed pay enough money to have an IUD put in right before getting the puppy, which might be nature's cruelest joke on me that just when I thought I was done with the baby years, I went and added another in the form of Elsa (our puppy) once again.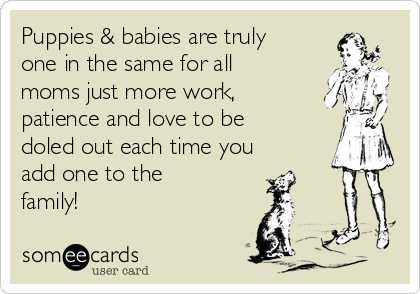 In The End…
But still just as having my kids, I wouldn't trade the puppy in for anything, even if I do complain (yes this lady doth protest a bit too much at times – sorry!). However, I am not adding another living, breathing thing in this house now, because my hands are literally full and my heart also is just as full.