"Shades of Valeria", he would say as he would chuckle his big famous belly laugh.
Sixteen years even after his passing, I can still hear my grandfather's words above, see his face as his eyes would twinkle and his mouth would turn up right before he would laugh something fierce each and every time he would utter this phrase to me.
What did it all mean?
In it's literal translation, it meant that I reminded him of his own departed mother with my spunk and personality. Let's face it, I was truly a spitfire back in my teen years and pretty much would do or say whatever I felt like, which would seem to delight grandfather and even revel in it as it was truly reminiscent of his own mother, who was known as a woman who spoke her mind and never one to mince words.
But the deeper meaning here, was that I belonged and I was loved unconditionally, who was one of the first father figures I was blessed to have in my life.
Yes, I reminded him of his own mother who he loved unconditionally, but in his eyes, I was perfect even if to most my brutal honesty and candor would make them cringe or worse anger them.
He never judged me, but even in my worst embraced me for it, trying in his own way to let me know I was indeed loved, but guiding me to the right place even if I fought it tooth and nail with most everyone else in my life.
And then as quickly as I had grown comfortable like that old worn out sweater and complacent even, it was all over with one simple phone call on Valentine's Day in 1999.
How is that for deep and profound irony?
See the first man (my grandfather) in my life to ever truly love me and show me love unconditionally took his last breath on Valentine's Day that year.
That early, afternoon phone call was direct and to the point from a hospital nurse on call at the time to all his loved ones that if we wanted to say our goodbyes, we would need to find our way there as he had taken a turn for the worst and would most likely not last probably but a few more hours at best.
Up to that point in my life, Valentine's Day was just another Hallmark holiday for hearts, roses and all things red – I was only 21 at the time in the prime of my youth having not met my now husband yet and certainly not a mother to anyone either.
Yet after that fateful day and watching my grandfather take his last breath, leaving the hospital with a hole the size of Texas in my heart, Valentine's Day, Father's Day and just about every other ordinary day in my life that I had to live without him physically here that took on a life of its own to me.
My soul and my heart just couldn't forget or heal.
Honestly, it took me quite a few years before I admitted just how much this lose effected me and or how my own ability to love another unconditionally took a beating from his passing.
When I finally did meet my husband, something inside of me knew instinctively. I finally was able to fall in love with my eyes wide open, loving him completely and utterly unconditionally, seeing that he was not only possessing similar traits my own grandfather for what a loyal and faithful husband should, but also what a father to young girls should, as well.
The huge hole in my heart from the lose of my grandfather got a bit smaller when I did allow myself to finally feel love again.
Same went for giving birth to my first daughter and then my second daughter, 16 months later.
All over again, it was like the hole in my heart began to mend and regenerate getting that much smaller with each of them being brought into this world giving me new purpose and life.
I may never be the same person that I was before Valentine's Day 1999, but I know that because of my grandfather's unconditional love that I learned what real, true love is and not ever take it for granted when I did find me again.
I will miss him always, but I can't thank him enough ever for having loved me and for teaching me how to love others in my life unconditionally always.
Last but not least, I also can never thank my grandfather for teaching me what a real man and father should embody, because of this my girls have a man in their lives that can teach them daily what to look for in a man as they grow up and be hopefully able to seek a husband and father similar to theirs for their own kids someday.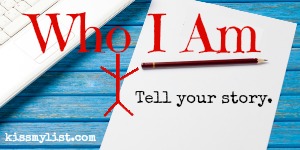 This was originally written back in June 2015, but fit perfectly with the February Theme of Who Am I? for Dana and Bev's monthly challenge and am linking it up there today.