Welcome back to Finish The Sentence Friday Blog Hop (FTSF). We give you a sentence and you finish it (however long or short you'd like). Please feel free to link up and follow any or all of our hostesses, which are below.
And now for this week's sentence to finish: "If I had a magic wand, the first thing I'd do is…"
And the next sentence to finish: "My best summertime memory this year was…"
If I had a magic wand, the first thing I'd do is…
I would love to wave and have it clean for me.
No joke, I am not a dirty person in the least, but I admit that I just loathe and despise cleaning.
My girls make a mess with their toys all day long everyday, but then as much as we have made them accountable for these messes, we (Kevin and I) still are always picking up toys at night before bed time. Plus, being stay at home mom, I am constantly cleaning up their messes all day long.
Probably doesn't help that they have a ton of toys or that everyone around them has spoiled them rotten with toys. Seriously our home could double for a small Toys R Us!
I finally had enough of this and recently went through and tossed some of their stuff that was beyond repair, as well as donated what I could.
We are firm believers in donating whenever possible.
And trust me they had more then enough to go around and still do, but at the very least it is more manageable.
But if someone did give me that magic wand (maybe the girls can loan one of the Princess Wands), I would surely use it to clean up whatever messes still do occur daily, because by the end of the night I would much rather my tired self wave that magic wand then clean the mess myself!
If you too had a magic wand, what would you do with it?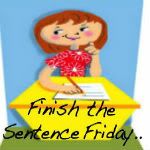 Weekly Giveaways~
To enter this past week's giveaways that I have been a part of and had running on my page, please click
here
to enter all the rafflecopters. Thanks and good luck, too!!
Still Time to Join My Blogiversary Celebration If You Haven't~
Daily Affiliate Offers (Always Check My Sidebar for More, Too!)
This year, use Blurb to make a small book for each of those relatives or good friends you want to say thank you to this Thanksgiving. Create your books now and give yourself more time to shop for Thanksgiving dinner! Blurb makes book making simple and from now through 9/9, get 15% off with the code: TAKE15!!
Up to 30% Off Kids & Baby Pre-Season Outerwear Plus More! Ends 9/22: Cozy up to early savings on pre-season outerwear for kids and baby beginning August 26! Shop fun new hannas, from very toasty savings on heaps of favorite jackets and snow gear, to supersoft micro-fleece pullovers and sweater hoodies. Save up to 30% off select dresses, cardigans and leggings for girls, to long-sleeve shirts and sweaters for boys. Hurry in and save before the first cold snap!
I Love My Post Blogiversary Giveaway~
This week, I am involved in
I Love My Post's Huge Blogiversary Giveaway
. To enter this giveaway, please click here to enter the rafflecopter and also to linkup for the weekly blog hop, too. Thanks and good luck!!
Blogging Design Needs~
Don't forget to check out my web design company for specials running at
J9 Designs
for all your web design needs, plus we are now offering
Paypal's Bill Me Later
, too!
Please Visit my Sponsor of The Month:
One Click Is All It Takes!!