Welcome back to Finish The Sentence Friday Blog Hop (FTSF). We give you a sentence and you finish it (however long or short you'd like). Please feel free to link up and follow any or all of our hostesses, which are below.

And now for this week's sentence to finish: "One of my hidden talents is…"
Next week's sentence to finish: "The most unexpected part of being a grownup is…"
One of my hidden talents….
Is handling my kids, the terrible twos and tantrums, too!
I wrote all about this here.
But now that my girls are no longer two years old, I have recently asked myself, "When do little kids outgrow the terrible twos?"
When does said terrible twos turn into it being more about said child being spoiled rotten having a full on temper tantrum for all to see?
I have had my fair experience with the terrible twos having just come out of the other side with my second child in a little under 3 years time now.
And for the most part, I learned quickly that up to a certain age, temper tantrums are just that.
But I still readily admit that the terrible twos were indeed terrible for all of us involved. However, for the most part, we knew that this was the age to begin testing boundaries and as parents to stay firm.
As bad, as the terrible twos stage was, at least I felt as though I knew that they were still babies heading into a new, uncharted phase.
But at almost 5 years old, when we recently took my both girls out to the Disney Store as a treat to pick out one item as a Valentine's Day present from us, Emma proceeded to have a meltdown over not being able to get more then one thing making an absolute spectacle of herself in the mall for all to witness. This I am fairly sure can no longer be blamed on the terrible twos.
I must admit, my kids are fairly good when I bring them somewhere nowadays and have counted myself as lucky that they may act horrendous at times in the privacy of our own home, but never dare act this heinous out in a public place of business.
So, this was now new and uncharted territory for me.
It started out like any other Sunday. It was a bit of a lazy morning, before soccer. Then, we did indeed have soccer at 11:30. When it was over, Kevin and I decided to take them to the mall and the Disney Store to get something for Valentine's Day, which was coming up on Friday. Both of us knew we would be working the rest of the week and also not sure what the weather would bring. So thought it was a good time to do our shopping.
Both girls are obsessed now with the movie Frozen, as most that follow my blog know. So, they of course were drawn to the Frozen section of the store, which was a bit sparse, because of how popular the movie is.
Even before we got to the store, they were told, they could indeed pick out one item.
Emma picked out an Anna stuffed doll and also an Olaf the Snowman cup. I tried to explain to Emma that she needed to pick one or the other. And that is when the mother of all tantrums began. I tried to reason with her, as well as, Kevin. But this was to no avail and once she was in tantrum mode, we were pretty much sh*t out of luck (no pun intended)!
Disney Store Olaf Cup That Caused Emma to Meltdown!
Lily was content with just the Anna doll and we walked to the cash register together, while Emma stayed behind with Kevin to continue her meltdown.
Turns out with Disney card, I get 10% off (I knew this and just forgot in the chaotic moment). So essentially, I would get one cup for free it I bought the two.
I caved and bought the damn cups, but hid them in my purse in a separate bag figuring I could always give them to the girls at a later date, but sure as he'll wasn't rewarding Emma for her bad behavior in the foreseeable future.
Emma did eventually calm down, but then on the way out of the mall had another smaller tantrum about carrying her bag from the Disney Store out and even answered me pretty rudely.
I had to control myself and just get her out of the mall as steam was rising and billowing from my head now.
Once home, she was punished by having to sit in her bed and would not allow her to have the Anna doll. I still haven't given her that doll and put it away for now.
She has told me she knows that acted badly and even did apologize when all is said and done.
Honestly, I am hoping that she did learn her lesson and will think twice before doing this over a toy in a store, but have a feeling my sweet baby is growing up now and will be in for so much more as the years do progress.
God help me and will need all I can get now, because even after this incident, Emma had a few more tantrum worthy moments this past week alone.
Kevin and I have both had to stay strong through these moments and it truly hasn't been easy. Just fearful, if and when Lily starts to now act out more like this as she ages, too.
So, I am not sure now that my hidden talent is to deal with little girl tantrums even as much as I admitted last week here how much I love being a girl mom.
In effect, I think I may just have indeed lost my hidden talent and not sure if I will find one to replace it with it anytime soon now. But say some prayers that I make it out of this new phase in one piece, because if it is this bad at almost 5 years old, I need all those prayers for the teenage years now!
Now that I shared about my hidden talent (or not so hidden talent) here today, please share your with us today.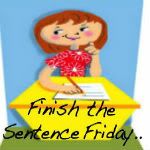 [inlinkz_linkup id=374177 mode=1]

For those, wanting to get any and all Pandora charms, please be sure to check out my Pandora article here.
Giveaways This Week~
Amandas Books And More 2nd Blogiversary~
The Prizes are:
1 Beautiful set of jewelry by Alli Flair
1 Month Free Ad Space on Janine's blog
1 Month Free Ad Space on Tamara's blog
Contest runs: 11 February to 25 February (2014) Open: Worldwide/Internationally How to enter: Please enter using the Rafflecopter widget below Terms and Conditions: This competition is open worldwide. 3 winners will be randomly drawn through the Rafflecopter widget and will be contacted by email within 48 hours after the giveaway ends. Each winner will receive 1 of the 3 prizes. The first winner will be sent the beautiful set of jewelry by Alli Flair via standard post or airmail. Your host cannot be held responsible for what happens once the package is mailed. The second and third winners will each receive free ad space on one of the two blogs mentioned. The winners will have 72 hours to respond. If any of the winners do not respond within 72 hours, a new draw will take place for a new winner. Odds of winning will vary depending on the number of eligible entries received. If you have any additional questions – feel free to send an email to morleychristina(at)gmail(dot)com
a Rafflecopter giveaway
Don't forget to check out my web design company for specials running at
J9 Designs
for all your web design needs, plus we offer
Paypal's Bill Me Later
, too! Also read our latest article on our latest blog transfer and design for My Dishwasher's Possessed, too
here
.
Please Visit my Sponsor of The Month:
One Click Is All It Takes!!