I'm absolutely thrilled to be co-hosting the More Than Mommies link-up this week after having linked up with them and found them on The Mom Of The Year's Blog last week. For those of you who haven't checked in on them yet, please do, because you won't be disappointed. They are the awesome, and I really do love them. I'm so very honored to be co-hosting their link-up this week and hope you have fun hopping on in and sharing with us, too. Thank you for stopping by!
Please feel free to Grab there button here: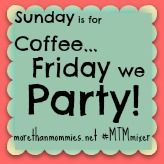 And now without further ado here is today's post.
The old adage of time flies couldn't apply more here if I tried. The question that has been on my mind the past few days is "How did it go from before Halloween to a week before Thanksgiving in the blink of an eye?"
Seriously, I have heard myself ask this question on more than one occasion now and have been asked it by others, too in the last few days alone. Yesterday, another mother at Emma's pre-school said these exact words to me. Then again today at my weekly chiropractor's visit, the receptionist, the masseuse, and the doctor all stated this same phenomenon. For the past few years, the holiday season has truly come upon me too quickly. But this year and specifically the last month has been on auto play. I can't seem to catch up no matter how try.
When in doubt Hurricane Sandy! I mean the damn hurricane can be blamed for so much already, why not this too. If you don't believe me let's take a better look. First, I think having had the hurricane hit at the time it did (right before Halloween) contributed to this feeling. The schools alone were closed for over a week. Emma normally has pre-school on Monday, Tuesday, and Thursday each week. Well, the first week the school district was closed the whole week having no power at all. The following week, the elementary and middle school were open on Monday, but the high school didn't have power still, so the high school kids had the day off, but the teachers had to report to the pre-school building. Thus the reason, the pre-school was closed for Monday. Then, Tuesday was Election Day. So, school was closed for the national holiday. Emma doesn't have school ever on Wednesdays, so she was set to return on Thursday, but guess what?
We had a nor'easter that dumped snow on us enough that the local schools were forced to close again. And then, this past Monday was Veteran's Day, so another day off. So, technically pre-school was a no-go from October 29th to November 12th. That is along time for school to be closed. She went from being excited for a Halloween Parade that never did take place and making Jack O'Lantern Crafts to a week before Thanksgiving and now making a Turkey craft in school.
Yes, somehow next Thursday is already Thanksgiving and not even sure how we got here this quickly. And next Friday, for most, is Black Friday, the traditional mega sales day in the US. But next Friday is also a very special day for our family. Next Friday is Lily's 2nd Birthday.
And guess how many presents I have bought for her? Technically one! I had bought this gift back in August when the pre-orders became available for the new LeapPad, read a review for this here. I did also purchase a Lalaloopsy backpack from Amazon for dance to match Emma's, because they have been fighting over that one damn backpack even though we have other backpacks in the house that each could use. The backpack will be a present from Emma to Lily. So again technically, I only bought her one gift from Kevin and I.
And this is not from the lack of trying this past weekend alone, because we went to The Disney Store and Target aimed to buy her birthday gifts, but left empty-handed.
So my mission if I choose to accept (do I have any other choice??) is to buy gifts for Lily's Birthday between now and next Friday. This is crunch time and I have to bring my A-game here!! Wish me luck!



Link up your Facebook Page:



Link up your Twitter Account:



Link up your Pinterest Boards:
[amazon_mp3_clips widget_type="Bestsellers" width="250″ height="250″ title="" market_place="US" shuffle_tracks="True" max_results="" browse_node="" /]
[wp_ad_camp_2]