"You are disgusting," Lily says as she is picking her nose. I kid you not on this! And so not sure where she heard this or from whom, but now every so often she will say this phrase and tonight was truly the best, because as she was indeed uttering this and of course teasing Kevin, she had her finger so far up her nose you would have thought she was mining for gold. By the way, I must tell her at least a few times a day now about not picking her nose, but she is at the age where anything goes and this is one of them.
Thankfully with Kevin, he knows she is teasing him and goes right back at her, but recently she said this to one person in our lives in particular who is a bit old fashioned and also has a hard time taking a joke or seeing that she is in fact only 2 years old. This person is my dad and as much as I love him, he got hurt when she said this line to him. Don't get me wrong he is her grandfather and loves her dearly, but he still didn't see it as funny and when she uttered those three little words asked her, "Why would you say that to me?"
And when he asked her that, he literally sounded like a wounded child, who was just hurt by his best friend. Granted as much as I felt bad, I kind of couldn't help, but laugh a bit. I, of course, had to conceal it and walk into the other room. When I came back into the room where they both were, I had to explain to a 63 year old man that she was only 2 years old and thinks she is being funny. She loves him just as she loves her father, who she does this with and doesn't see anything wrong with it. I explained further that the more I make of it, the more she will probably keep doing this, because that is what kids are notorious for.
So back to tonight and the conversation, of course landed back on the sillies, which seem to rule so often in our house. The one thing I remember when looking for a potential mate was someone who could take a joke, because growing up as you can see my dad was not the man for that job. He has a lot of other good qualities, but his sense of humor isn't all it is cracked up to be. My grandfather (my mom's dad) was the jokester in my life and that is probably where I learned how to tease and yes be a bit sarcastic, too. When he passed away, there was a void left there and I just couldn't help, but look for another person, who could make me laugh and laugh right alongside me, as well.
So, when I did find Kevin and he possessed a very unique and similar sense of humor to myself, I latched on for dear life! And at moments like the above two stories, I am glad I did, because at least he does know how to laugh and not take something our kids say so seriously unlike my father. Again, I do love my dad, but I always wished growing up I could joke with him more, but knew my limitations there. Thankfully, I do believe my kids will never not know this type of laughter or teasing, because Kevin truly is so very good at this with them and with me also.
Linking up yet another week with The Happy Wives Club: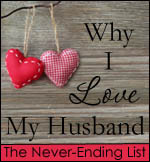 Last, but not least, Happy Valentine's Day to all!!!
Don't Forget to Vote. Your Vote Counts and Is Appreciated!!

Please Visit my Sponsor of The Month: