Welcome back to Finish The Sentence Friday Blog Hop (FTSF). We give you a sentence and you finish it (however long or short you'd like). Please feel free to link up and follow any or all of our hostesses, which are below.
And now for this week's sentence to finish: "This summer I plan to…"
And next week's sentence to finish: "When I was younger, I wanted to…"
This summer I plan to…actually take a few days off and spend some time with Kevin and the girls.
I truly have been looking forward to the summer, because it my favorite season. I love the warm, hot weather. Seriously, the hotter the better for me.
Love This Time of Year, Flip-Flops & All!!!
I have always felt for me it is easier to cool down the warm up (as in be freezing in the winter).
I have never his my pure distain for winter, cold and snow.
Maybe, this is because I was born in the real beginnings of the summer. I am Gemini and my birthday is June 10th. Growing up, my birthday was the perfect way to kick off the summer.
Now, it is always right around the time of my girls' dance recitals. So, we usually celebrate the two events pretty much simultaneously.
Also, now Kevin takes most of his vacation days in the months of June, July and August in the form of long weekends, so we can spend some quality time together as a family, but spread it out instead of it being one, long vacation.
We are talking about taking the girls somewhere possibly beach or amusement park related for a long weekend. And some other fun filled day trips locally as well.
And now that it is May, I guess I should think about doing some planning. If anyone has any suggestions, hit me up in the comments. We do have a few ideas, but always looking for some good feedback from all!!
Now tell me, in the comments, about your summer plans. Or write a post and link it up! And be sure to share my story with all your FB and Twitter friends. We'll also be featuring some of our favorites on Twitter with the Hashtag #FTSF and our Facebook pages too, so make sure to follow. Don't forget to grab a button and put it somewhere people will see. We'd are hoping to keep this hop going strong and continue this for a long time to come!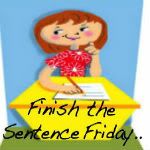 Loading InLinkz …
And please don't forget to check out J9 Designs for all your web design needs, too.

Please Visit my Sponsor of The Month:
For Spring Sale Special Advertising Rates, Please Use Special25!!!
One Click Is All It Takes!!