Welcome back to Finish The Sentence Friday Blog Hop (FTSF). We give you a sentence and you finish it (however long or short you'd like). Write a post and link it up, or if you don't blog, feel free to finish the sentence in the comments for everyone to see.
Your humble hosts:
Janine's Confessions of a Mommyaholic (Twitter, Facebook)
Can I Get Another Glass of Whine (Twitter, Facebook)
This week's sentence:
"The last time I went on vacation, I…"
Next week's sentence to finish: "When I was younger I tried…"
Here's how I finished this week's sentence:
"The last time I went on vacation was actually this past summer (July 2012). But the vacation plans started to take form over a year ago in February 2012. We were at my sister-in-law's 30th birthday party, when my husband's cousin mentioned that she had rented a beach house in Connecticut for a week.
As much as I love my husband's family, I am not going to lie I was nervous about going away to a place a few hours away with a 2 1/2 year old, who was potty training at that point (would be 3 years old in July) and 15 month old (who would be 18 months at that point). See being home and trying to get them to sleep in their own room and environment was hard enough at times, plus having to find stuff to entertain them with all day long for a few days was also on my mind. Plus even though we were family, we would all be in close quarters for a few days at least and wasn't sure who would possibly get on who's nerves first. These were just a few things that came to mind and worried me.
So, a few months went by and didn't hear much more, but then as the time drew near, I was getting e-mails and even saw his cousin again at my niece's 1st birthday party, where she pretty much had us and the rest of the family as going. Plus, I was assured though by his cousin that we would have our own bedroom and not to worry. Also, I found out the dates fell the week before Emma's 3rd birthday. We decided to go, but again still was worried. Again, don't mistake me I love these people I do, but the above concerns did make me just a wee bit nervous still.
Well, July rolled around and then that week was upon us. The plan was I would drive Kevin to work in the morning, pack the house while the kids napped and then get on the road to pick him him at work. Then, he would drive the rest of the way to the beach-house in Connecticut. We did just that and actually made good timing.
When we arrived, we had to park in the driveway, which was on incline, of course had to use the parking brake, hobble out of the car, somehow get the kids out on this incline, and unpack the car, too. Well, we did all that and was led to our room. We did indeed have our own room, which had twin beds and nothing else to accommodate two kids. Thankfully we had taken a sleeping bag and set that up for Emma. She is such a good little girl, bless her heart and sleep fine with her pillow and a sleeping bag for three nights. Lily, I had to put in the bed next to me and wedge the bed up against the wall. She slept against the wall part and I got the tiniest edge of the bed. Seriously, I have to admit not the most comfortable sleep I ever had.
On top of this, I am a light sleeper and any noise will wake me up. The walls were pretty thin and could here too much all night long, whether it was those above us moving around on the third floor or my nephew crying next door from teething (believe me I felt for him and have had two of my own, but not what I wanted to hear on vacation). And last, but not least, let's not forget the outdated plumbing. I truly worried that someone was going to clog the toilet yet and then what?? Not so much for me, but we did have little kids potty trained (mine included).
I know I shouldn't be complaining, because it was a free vacation and my husband's cousin is a doll for putting us all up. Believe me I love her and can't thank her enough for doing that, but the sad truth is at 35 years old, I need to sleep when I can and comfortably. I wish I was in my 20s again, where I could sleep anywhere and just go with the flow, like the time I slept on a futon in a friend's house for a month. Seriously, might not have been comfortable, but it never seemed to bother me. Probably just getting old!!
That said, the beach was magnificent though and the company wasn't bad either, just truly wish I could have had a day at a spa or something to recuperate from my sleepless nights. The next time, I swear, I will pay for the five star hotel room, because I just can't help, but need that at this point in my life.
Now tell me, in the comments, something embarrassing you've done (you're in good company). Or write a post and link it up! And be sure to share my vacation story with all your FB and Twitter friends. We'll also be featuring some of our favorites on Twitter with the Hashtag #FTSF and our Facebook pages too, so make sure to follow. Don't forget to grab a button and put it somewhere people will see. We'd are hoping to keep this hop going strong and continue this for a long time to come!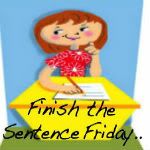 Don't Forget to Vote. Your Vote Counts and Is Appreciated!!

Please Visit my Sponsor of The Month:
[amazon_mp3_clips widget_type="Bestsellers" width="250″ height="250″ title="" market_place="US" shuffle_tracks="True" max_results="" browse_node="" /]
[wp_ad_camp_2]