Welcome back to Finish The Sentence Friday Blog Hop (FTSF). We give you a sentence and you finish it (however long or short you'd like). Write a post and link it up, or if you don't blog, feel free to finish the sentence in the comments for everyone to see.
Your Humble Hosts:
Janine's Confessions of a Mommyaholic (Twitter, Facebook)
Kate's Can I Get Another Glass of Whine (Twitter, Facebook)
Stephanie's Mommy For Real (Twitter, Facebook)
Dawn from Dawn's Disaster (Twitter, Facebook)
Now for Some Rules:
Please Make Sure to Follow Your Hosts, If You Haven't Already.
Make Sure to Read and Comment on at Least Two of the Posts That Come Before Yours.
Share Your Favorites on Facebook and/or Twitter Using the Hashtag #FTSF.
Now Make Sure to Link Up Your Posts with This Week's Prompt Below.
Enjoy and Have Fun!!
This week's sentence: "When I was younger, I tried…"
Next week's sentence to finish: "When it comes to reality TV shows, I…"
When I was younger, I tried to think that it would be a piece of cake to have a family namely kids. But I had no idea how hard it would exactly be to be a mother and have little kids. I would see people with kids and think these kids they looked so cute. or hear something they would say to find myself smiling. I would even see a newborn baby and my heart would melt and my uterus would do flips.
But seriously, what no one tells you when you aren't part of this elite group is that this is not an easy job or even one where you get many thank you's for being on 24-7, 365 days a year. Don't get me wrong, I love my kids,, but man there are days where I wish I could go back to those days when it was quiet and it was just me. Again, I can't imagine not having them, but the noise level and craziness does make me long for even an hour of peace and quiet.
That said here are the top three things I hadn't any clue about in my younger days about being a mother and having to raise kids. Many I have blogged or written about before, but it needs to be shared for those who don't have kids to give you a bit of enlightenment and for those that do and can truly relate, too.
Sleep–First and foremost, I took sleep for granted. I had my fair share of nights where I had trouble sleeping when I was not a mother, but giving birth to a child brings this one to an all new level. I had as many who knows and read this blog, a colicky baby for my first. Emma would sleep all day and then be screaming all night for the first few months of her life. And as much as I tried to nap during the day, when she was asleep I could only sleep an hour at a time. It was a real culture shock for me and remember falling asleep on my feet during the day (something I never knew possible unless you had narcolepsy). And at night, I remember just praying for her to be quiet even for an hour. As she got older, I had my second pretty quickly. Thank god for the fact that Lily was a good sleeper as an infant, but still nothing is perfect and when they are up, you are up. Last night, both my girls were up about an hour apart during the middle of the night. Just as I was starting to drift back off and get comfortable, it was time for the second child to be heard from. Both were short lived episodes and more the I lost a sock or fix my blanket variety versus all out scream feast, but still being up and not sleeping is just that no matter how you slice and dice it. I wish I would have known to get as much sleep as I could back in the day, because sleep is truly a hot commodity that I still haven't mastered again even when they do sleep all night long for the most part, because I still can't completely retrain my body after all the baby/kid sleepless nights. Trust me, after you have kids you will never sleep another peaceful night, ever!
Mealtime–I vaguely remember a time when I would eat a meal and it would still be hot. Yup, that doesn't happy very often around these parts anymore. I prepare meals, feed them my kids three times a day and then after each meal that they have finished, I get to eat. And even when I do finally get to shove some of that food down my throat, I have someone needing something and therefore the next bite can wait. And let's not even get started about taking my kids out to dinner with us. Yes, I have blogged about that hereand won't rehash that one, but will say it is more fun to have a tooth pulled than eat a meal meal out with my kids. And I hate the dentist, so that says a lot! Again, I wish I would have enjoyed hot meals more before they were no longer an option for me.

Yes, Everyone Is On the Potty Patrol for Me In My House

Showers/Bathroom time–Yes, I swear there was a time when I could take a crap in peace without someone banging on the door to flush a dead fish. I also blogged about that here, but seriously I used to take a shower and use the toilet without a million and one distractions. I never knew that I with every bathroom trip I took that I would have an entourage to cheer me on. I forgot the last time, I didn't have someone just barge in and say the "Mommy". I feel like Lois on Family Guy, when Stewie keeps saying "Mommy" over and over until she finally responds and he quite simply says, "Hi". I don't need to have someone say hi to me while I sit on the toilet, a simple give mom her privacy for 30 seconds would be nice, but still so not in the cards anymore. Unfortunately, again no one shared this small nugget with me before my first arrived that someday your bathroom habits are going to be shared with a small mob. I used to have a shy bladder and that got kicked to the curb ages ago, when I learned you have to pee on the go.
Unfortunately, no one ever says "Welcome to Mommyhood", now here are all the things that you won't be able to do anymore, but enjoy!! But I digress and onto this week's link-up fun.
Now tell me, in the comments, about your when you were younger (you're in good company). Or write a post and link it up! And be sure to share my story with all your FB and Twitter friends. We'll also be featuring some of our favorites on Twitter with the Hashtag #FTSF and our Facebook pages too, so make sure to follow. Don't forget to grab a button and put it somewhere people will see. We'd are hoping to keep this hop going strong and continue this for a long time to come!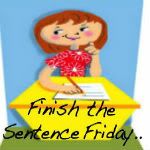 Loading InLinkz …
Don't Forget to Vote. Your Vote Counts and Is Appreciated!!

Please Visit my Sponsor of The Month:
[amazon_mp3_clips widget_type="Bestsellers" width="250″ height="250″ title="" market_place="US" shuffle_tracks="True" max_results="" browse_node="" /]
[wp_ad_camp_2]