Welcome back to Finish The Sentence Friday Blog Hop (FTSF). We give you a sentence and you finish it (however long or short you'd like). Write a post and link it up, or if you don't blog, feel free to finish the sentence in the comments for everyone to see.
Your humble hosts:
Janine's Confessions of a Mommyaholic (Twitter, Facebook)
Kate's Can I Get Another Glass of Whine (Twitter, Facebook)
Stephanie's Mommy For Real (Twitter, Facebook)
Dawn from Dawn's Disaster (Twitter, Facebook)
Now for Some Rules:
Please Make Sure to Follow Your Hosts, If You Haven't Already.
Make Sure to Read and Comment on at Least Two of the Posts That Come Before Yours.
Share Your Favorites on Facebook and/or Twitter Using the Hashtag #FTSF.
Now Make Sure to Link Up Your Posts with This Week's Prompt Below.
Enjoy and Have Fun!!
This week's sentence: "The most-memorable Valentine's Day I ever had was…"
Next week's sentence to finish: "I get so frustrated when…"
The most-memorable Valentine's Day I ever had was probably the worst I ever had. I honestly don't want to rehash that here and even wrote a whole Hubpages article about this. But I will share this was the Valentine's Day that my grandfather (my mother's father) passed away. It was in 1999 and I wasn't quite 22 years old yet. Suffice it to say, I started the day having a grandfather and ended it not having one at all. We were very close, so this was probably one of the worst days of my life. This one event caused me for many years to loathe and detest this holiday and even swore off celebrating it. I also would feel quite down as the month of February would approach each year. I just dreaded it.
Before I met Kevin, I dated quite a bit. I probably was a bit of a serial dater, but then again I just hadn't found Mr. Right and he hadn't found me either. Somehow, I managed to be in between boyfriends for the first few Valentine's after my grandfather died. So not celebrating was pretty easy for me, because I didn't have another person to celebrate it with. The Most Memorable One!!
But then I met Kevin in the summer of 2003. From the moment I met him, I knew he was different and special. We dated for months and was still dating for Valentine's Day 2004. I remember how special he had made Christmas for me that first year. I had never been gifted Tiffany's Jewelry by a guy, but lo and behold I was presented with two little blue boxes with a matching hearts ring and necklace set. I was also included in all his family's Christmas celebrations.
Well, that Valentine's Day was quickly approaching and was dreading it like most years, but when I laid it out for Kevin, he started to tell me how he had lost his grandfather a few years earlier, miraculously he understood what I was feeling, and even told me he would feel similar feelings as the month of June approached (when his grandfather had passed on) and close in on the anniversary of the death of his grandfather.
I didn't think it was possible, but I remembered feeling even closer to him. He told me if I didn't want to celebrate we didn't have to, but I remembered thinking how much my grandfather would have loved him and how I did feel as though I had something now to indeed celebrate. Don't get me wrong, I still very much missed my grandfather and probably always would, but I now felt as though a part of me was coming back to life.
Well, Valentine's Day arrived. Kevin made the day so very magical for me. He took me out to a local Bar and Grill Restaurant, which had a ton of charm and a place I always wanted to try, but no one ever took me there before (ironically we had my baby shower there a few years later, because it became such a special place for us). Earlier in the day, he had a Vermont Teddy Bear delivered to my house, a dozen roses and even bought me a beautiful diamond cross necklace.
He honestly made me feel so loved and also very special. The day that I had dreaded and had sworn off for years actually became one that I will never forget, but for a wonderful reason and not the awful tragic one that it had previously been for me. It was the first Valentine's Day that I felt like me again and will always be special for obvious reasons.
Now tell me, in the comments, about your most memorable Valentine's Day (you're in good company). Or write a post and link it up! And be sure to share my story with all your FB and Twitter friends. We'll also be featuring some of our favorites on Twitter with the Hashtag #FTSF and our Facebook pages too, so make sure to follow. Don't forget to grab a button and put it somewhere people will see. We are hoping to keep this hop going strong and continue this for a long time to come!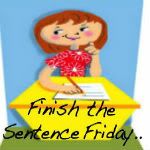 Loading InLinkz …
More shameless begging for the Circle of Mom's Contest, which runs through February 13th. Please click the button below or the one on my sidebar to vote for me their as well.
Don't Forget to Vote. Your Vote Counts and Is Appreciated!!

Please Visit my Sponsor of The Month:
[amazon_mp3_clips widget_type="Bestsellers" width="250″ height="250″ title="" market_place="US" shuffle_tracks="True" max_results="" browse_node="" /]
[wp_ad_camp_2]