Welcome to the first Follow The Sentence Friday (FTSF #1), where we give you a sentence and you finish it (however long or short you'd like). Write a post and link it up, or if you don't blog, feel free to finish the sentence in the comments for everyone to see. I am co-hosting this with Kate from "Can I Get Another Bottle of Whine with My Morning Quiet Time?".
The sentence for this week:
"I went to the grocery store the other day, and…"
Next week's sentence to finish: "One of the most embarrassing things I ever did was…"
Here's how I finished the sentence:
I went to the grocery store the other day, but only I actually didn't. Normally, Kevin and I go grocery shopping on Saturdays after both my girls have dance. Most who know me and read my blog know that Saturday, in general, is usually my crazy day. Well, this past Saturday, my girls had the weekend off from dance, because of the holiday and was hoping for a bit more peaceful day than usual.
Even still, Kevin and I were planning on going to the grocery store though that morning. When it came time to think of doing our grocery shopping only Lily wanted to go with us, not Emma. Kevin mentioned this and Emma's exact words were, "I don't want to go and want to stay home with mommy."
Then, he asked Lily if she wanted to go food shopping with him and of course she said yes immediately, because she is Kevin's shadow nowadays. I swear this is the kid who will cry outside the bathroom door for Kevin when the poor guy has to relieve himself. So it was no surprise there.
Once we realized we had a split decision, Kevin turned to me and said, "Well if you are staying home with Emma, maybe the two of you could start taking down the Christmas decorations." He even posed this as a question to Emma and she seemed more than amenable to helping me.
So, I got Lily bundled up, because it was cold and pretty nasty weather outside at this point, while Kevin got down the boxes from the attic to pack up the Christmas stuff. Once he left, I turned to Emma and said, "Let's take the bows and ornaments off the tree first."
"Sure mommy," Emma answered. The next thing I knew, most if not all of the tree was undecorated and packed up, as well as the rest of the Christmas decorations, but no thanks to Emma. Her help was more along the lines of playing with all of her news toys and leaving me another mess to clean up once I was done dealing with the Christmas cleanup. Yes, my house looked like Toys R Us exploded everywhere. I am still not sure how, because we donated a ton of toys and yet since Christmas, we are now back at the maximum capacity level and pushing over the edge again. But that is neither here nor there, but need to remember to thank Santa for this one!!
As for the grocery store, well as you can plainly see I never made it there myself, but apparently Kevin and Lily did just fine on their grocery excursion, except they forgot the Princess toothpaste, which caused screams out of Lily at bedtime that night, but that is a bedtime story for another time!!
However, my peaceful, quiet Saturday was anything but with all the cleaning I did instead of grocery shopping. Oh well, maybe someday my Saturdays will be my fun day again!!
We'll be featuring some of our favorites on Twitter and our Facebook pages, so make sure to follow. Don't forget to grab a button and put it somewhere people will see. We'd are hoping to keep this hop going strong and continue this for a long time to come!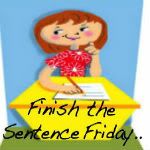 [amazon_mp3_clips widget_type="Bestsellers" width="250″ height="250″ title="" market_place="US" shuffle_tracks="True" max_results="" browse_node="" /]
[wp_ad_camp_2]